L
Last month, the world of British cinema suffered a great loss with the passing of one of its most celebrated and unique screenwriters. Terence Davies, known for his incredible trilogy of short films (Children, Madonna and Child, Death and Transfiguration – all available on BFI Player) as well as his latest feature, Benediction (2021), had a knack for seamlessly weaving personal experiences with universal truths. His range of subjects included autobiographical depictions of working-class life in postwar Liverpool (Distant Voices, Still Lives, 1988; The Long Day Closes, 1992), grand literary adaptations (such as Georgia-set The Neon Bible, 1995 based on John Kennedy Toole's novel, currently streaming on Channel 4; or Sunset Song, 2015, a Scottish masterpiece by Lewis Grassic Gibbon), and intimate portraits of real-life authors – most notably, American poet Emily Dickinson portrayed brilliantly by Cynthia Nixon in A Quiet Passion, 2016. Despite the diversity of his works, each film held a deeply personal touch. It's no surprise that Jack Lowden, who played Siegfried Sassoon in Benediction, shared that after immersing himself in the diaries of his character, he began to see himself essentially playing Terence Davies.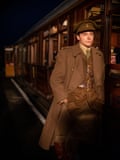 Although highly praised (as seen in a Time Out magazine poll where Distant Voices, Still Lives was ranked as the third greatest British film ever made), Davies, like many of his fellow countrymen, faced challenges in securing funding for his films. It would take eight years after his critically acclaimed adaptation of Edith Wharton's The House of Mirth (2000), which showcased Gillian Anderson's best performance yet, for his next film Of Time and the City, a stunning documentary, to be released. Three more years would pass before his next dramatic feature, the well-received version of Terence Rattigan's stage play The Deep Blue Sea (2011). Despite being highly regarded among film enthusiasts, Davies had to persistently fight to bring each of his films to life.
One of my most cherished memories of Davies is from a trip we took to Liverpool together before the release of his film Of Time and the City in the UK. I had the pleasure of interviewing him multiple times and this trip stands out in my mind. Of Time and the City is a personal and emotional film, featuring a compilation of old footage with a soundtrack of music and quotes from famous writers. It was my favorite film of the year, a beautiful homage to his hometown. As a film enthusiast, it was a dream come true to have Davies guide me through his childhood years on camera.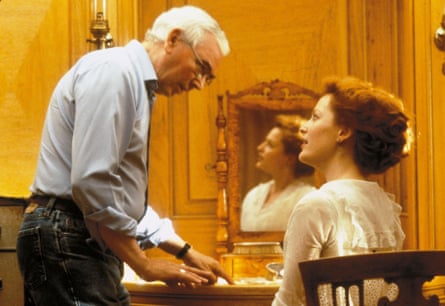 As he reflected on his childhood on Kensington Street, he noted that the memories of the houses and sidewalks from that time still hold a powerful grip on him. He expressed a longing to return to the four years between the ages of seven and eleven, which he considers the happiest time of his life. He directed my attention to a garage where, during his formative years, he witnessed three bare-chested men constructing a wall. It was at this moment that he became aware of his sexual orientation, although he was not familiar with the term "gay" at the time. This realization marked the end of his feelings of paradise and contentment.
As a devout Catholic, Davies faced difficulties in reconciling his beliefs with his sexuality. He shared that he spent years crying and praying until his knees bled, but it did not bring him peace or comfort. We walked together from his childhood residence to the church where he used to attend services. He confided in me that he now feels repelled by the empty symbols and imagery within the church. He believes it has caused him significant harm.
We continued our walk from the church to an abandoned movie theater, where he enthusiastically reminisced about his childhood in a neighborhood with eight cinemas within walking distance. For Davies, cinema became his new form of worship. In his work "Of Time and the City," he proclaims, "My love for cinema was just as strong as my Catholic faith, but without any of the limitations. Musicals, melodramas, westerns – nothing was too extravagant or too simple for my insatiable hunger. And I indulged myself with a frequency that would put a sinner to shame!"
The strong adoration for film, evident in all of Davies's works, would permeate his entire body of work. In a notable scene from The Long Day Closes (also referenced in Kenneth Branagh's Belfast and Sam Mendes's Empire of Light), a young boy is shown in the balcony of a movie theater, captivated by the wonders unfolding on the screen.
After a few years, Davies and I were enjoying a drink at Da Wheel bar in Shetland, where he was the honored guest at the Screenplay film festival. He recalled something he had mentioned to me during our time in Liverpool – that for him, cinema was like a spiritual encounter. He felt a sense of complete ecstasy because he truly believed in what he saw on the screen.
I can think of no better description of the transportative magic of the movies, or the invigorating wonder of Terence Davies.
Titles can be rented on various platforms, unless stated otherwise.
What other things am I currently enjoying?
A Personal Account: Every Person for Themselves and Against All Odds with God
From his bold description of the entire 20th century having been "a mistake" to his declaration that he can only learn from bad films (the great ones remain "an enigma"), Werner Herzog's latest tome is deliciously forthright fare. Tales of strong women, crazed actors and random on-camera shootings ("a bit of local folklore") sit alongside grand philosophical provocations ("the culture of complaint disgusts me") and apocalyptic predictions ("I picture a radical turning away from thought, argument and image") to page-turning effect.
"Unleashing the Boundaries of Cinema: The Imaginative Universes of Powell and Pressburger"
The BFI is honoring the lasting impact of the renowned filmmaking duo with restored versions, re-releases, and showcases, serving as a stunning tribute to the exceptional skills behind their works such as Black Narcissus, The Red Shoes, A Matter of Life and Death, and others. This event will continue until December 31st.
Source: theguardian.com