The passage at Rafah border, which separates Gaza and Egypt, has finally been opened after more than three weeks of violent conflict. This allows for the transport of numerous injured Palestinians in need of medical care and hundreds of foreign citizens with passports.
Observers at the Gaza border witnessed a large number of individuals and vehicles rushing to cross through the gates towards the Egyptian side. This occurred in the area where the terminal was damaged. Some of these people were carrying their possessions with them. Ambulances quickly transported the injured to field hospitals in Egypt, including a young boy with extensive bandaging on his stomach.
As of the end of Wednesday, over 335 individuals with dual citizenship and 76 seriously injured or ill individuals had crossed the border, and there are anticipated to be more in the future.
Due to ongoing Israeli attacks on Hamas militants, there were only a few evacuations from the Palestinian enclave, which were limited in scope. On Wednesday, a bomb explosion further shook Jabalia, the biggest refugee camp in Gaza, following an airstrike by Israeli forces the previous day that resulted in the death of approximately 50 people and injuries to 150 others, according to Palestinian health officials. Israel claims that the attack targeted and killed a Hamas leader.
Umm Saleh Hussein, a citizen of Jordan, who successfully entered Egypt, expressed that the lack of water and electricity was only one of the many challenges faced by the people in Gaza. According to her statement to Agence France-Presse, the bombardment was a bigger concern and caused fear among the residents. Sadly, many families lost their loved ones during this time.
A citizen from Jordan, Saleh Hussein, stated that she was informed in the middle of the night that she was included in the evacuation list.
On Wednesday, individuals from Australia, Austria, Bulgaria, the Czech Republic, Finland, Indonesia, Japan, and Jordan with citizenship or dual passports were permitted to depart. Additionally, employees of various aid organizations were also cleared to leave.
A small number of Americans, who were working for international organizations, crossed the border. The President of the United States, Joe Biden, wrote on X (formerly known as Twitter) that he anticipates more people leaving in the next few days.
The UK Foreign Office announced on Wednesday evening that a initial batch of British citizens had successfully entered Egypt. Foreign Secretary James Cleverly praised the crossing as a significant and crucial first move.
On the X social media platform, the individual stated that they are collaborating with authorities from Egypt and Israel to maintain the opening of the crossing, allowing British citizens to reach safety within the next few days.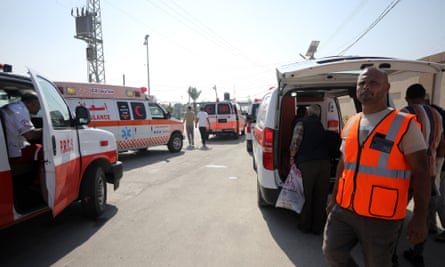 Not everyone who had hoped to cross was allowed to enter Egypt. Umm Yussef, a dual Palestinian-Egyptian national, told AFP on the Gaza side: "We are overwhelmed … Have mercy on us. We are Egyptians and can't cross into our country. Let us in. We are exhausted. We can't sleep or eat."
The establishment of the passage was mutually agreed upon by Egypt, Israel, and Hamas, with the support of the US, following mediation by Qatar during negotiations.
There was no indication of the duration of the open crossing, but other possible openings have been proposed in the near future. There has been a growing global push to open Rafah for humanitarian reasons.
Over 200 trucks have delivered crucial aid to Gaza from Egypt, but until Wednesday, no one was permitted to leave the heavily damaged area. Various international governments report that there are individuals holding passports from 44 different countries and 28 organizations, including United Nations agencies, residing in Gaza. The 2.4 million inhabitants of Gaza have been enduring continuous Israeli bombings for over three weeks since October 7th.
The process of evacuating started when a high-ranking Hamas leader stated on Wednesday that the captives being detained by Hamas in the Gaza Strip were at equal risk of "fatality and devastation" as the Palestinian people have experienced.
Earlier today, Hamas reported that seven individuals being held captive, three of whom held foreign passports, were killed on Tuesday due to Israeli attacks on the Jabalia camp in Gaza. These attacks resulted in numerous casualties.
The leader of Hamas's political bureau, Ismail Haniyeh, clearly connected a halt in fighting to talks about freeing the hostages.
240 Israeli and foreign individuals were reported to be held captive in Gaza following the violent attack by Hamas in southern Israel on October 7th, resulting in the deaths of 1,400 people, primarily Israeli civilians. Israel also stated that 15 of its soldiers had been killed in combat during their recent ground operation in Gaza.
On Wednesday, Palestinians stated that there was yet another wide-ranging disruption of internet and phone services in Gaza. This came shortly after Israeli airstrikes destroyed apartment buildings near Gaza City and as their ground troops engaged in combat with Hamas in the besieged area.
Paltel, a telecommunications company in Palestine, reported a total interruption of internet and mobile phone services in Gaza. This is the second occurrence in five days, leaving residents isolated from the rest of the world. Over the weekend, communication was also disrupted as Israeli troops entered Gaza in greater numbers.
According to a medical authority in Arish, Egypt, teams will be stationed at the Rafah border to assess individuals and determine appropriate hospitals for treatment.
The medical representative stated that a new hospital spanning 1,300 square meters will be constructed to accommodate injured Palestinians in the town of Sheikh Zuweid, located in northern Sinai approximately 10 miles (16km) from Rafah.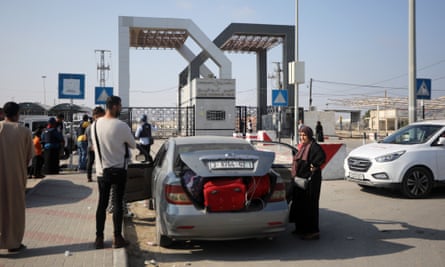 According to Matthew Miller, spokesperson for the US state department, the negotiations to ensure a safe exit for Americans and other foreign citizens from Gaza have made significant strides in the past few hours.
We are optimistic that any arrangement to evacuate individuals would also allow for American citizens, their families, and other international citizens to leave as well," he stated. Miller stated that the US will advise its citizens in Gaza to go to Rafah once they have reliable information.
According to the BBC's report on Wednesday, the UK Foreign Office has notified British citizens stranded in Gaza that Rafah could potentially open for restricted departures. The US government has been collaborating with Qatar and Egypt to facilitate the opening of the crossing for American citizens to depart.
The head of Israel's national security council, Tzachi Hanegbi, informed journalists that they were in communication with Egypt regarding the injured individuals. However, there is still a disagreement about the delivery of aid. Egypt wants to allow more trucks into Gaza, while Israel has restricted the search of vehicles to only a few dozen per day.
The United States, known for supporting Israel while also advocating for increased humanitarian efforts, has expressed optimism about the possibility of 100 trucks per day passing through Rafah.
The Department has announced that Antony Blinken, the US Secretary of State, will be visiting Israel on Friday to hold meetings with government officials before traveling to other destinations in the region.
This report includes contributions from Agence France-Presse and Reuters.
Source: theguardian.com