After months of pandemic-related delays, Asia's first Gay Games was held in Hong Kong last week, with nearly 2,400 athletes competing. At the opening ceremony, Regina Ip, the convenor of Hong Kong's executive council, said the competition represented the city's commitment to "equal opportunity and non-discrimination", and praised Hong Kong's courts for the "numerous judgments" handed down in favour of the LGBTQ+ community in the past decade.
Activists and lawyers were perplexed by this, as they noted that Ip's administration has consistently opposed these rulings and has been unsuccessful in the majority of instances. Over the past three years, there have been a minimum of seven legal cases concerning LGBTQ+ rights brought before Hong Kong's courts, with several reaching the Court of Final Appeal, the city's highest court. Human rights lawyer Mark Daly, who has been involved in several of these cases, questioned why the government continues to spend taxpayer money on these lengthy and unsuccessful legal battles.
According to Ip's statement to the Observer, the government has followed the Court of Final Appeal's decisions in all of the cases that were brought before the highest court.
The Gay Games took place after a series of legal triumphs for the LGBTQ+ community, highlighting their progress in the legal system amidst a growingly unwelcoming atmosphere for gay and transgender individuals in mainland China.
In February, the highest court in Hong Kong declared that the practice of mandating transgender individuals to undergo surgery before legally changing their gender, which is also enforced in mainland China, was against the constitution. Later in September, the court determined that the government must create a different system for acknowledging same-sex partnerships, but did not fully support same-sex marriage.
In recent instances, Henry Li, a 37-year-old lawyer, has been involved. He became an unwilling activist in 2019 when he and his deceased spouse, Edgar Ng, discovered that they could not reside together in the subsidized flat purchased by Ng. This was due to the fact that Li was unable to register as a "spouse" or "family member". Despite getting married in the UK in 2017, their marriage was not legally recognized in Hong Kong.
Li stated that the purpose of the legal proceedings was not solely to advocate for equality, but rather to legally remain in their own home as a couple. Li acknowledges Ng for initiating the judicial review in order to safeguard their rights. Recently, the Court of Appeal ruled in Li's favor, although the housing authority intends to appeal the decision.
Ng also launched a legal bid to demand equal treatment for same-sex couples with regards to inheritance rights. Last month, the Court of Appeal upheld a lower bench's ruling in Ng's favour. But Ng died in 2020, having taken his own life, and his assets remain frozen as the government is expected to appeal.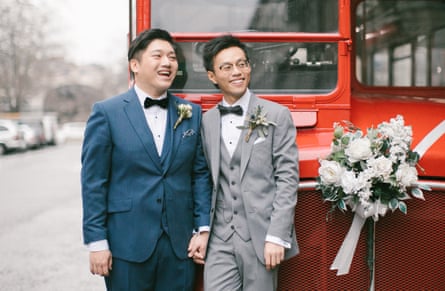 After Ng passed away, there were more legal proceedings when the morgue denied Li the opportunity to identify Ng's body. Li remembered, "It was heartless, inhuman, and degrading. Edgar's remains were right in the next room and yet I was told he wasn't my husband."
He initiated a legal review, but withdrew it in October 2021 following the government's clarification that the coroner's office should treat same-sex partners equally.
The government's reluctance to provide LGBTQ+ individuals with equal rights aligns with Beijing's stance but is becoming increasingly conflicting with the views of the general public in Hong Kong. A recent study showed that 60% of people are in favor of legalizing same-sex marriage, a significant increase from 38% ten years ago. Additionally, over 70% believe that there should be legislation in place to prevent discrimination based on sexual orientation.
LGBTQ+ individuals have faced conflicts with the authorities not only in the courts but also in other areas. In July, the sole LGBTQ+-related radio program in Hong Kong, called We Are Family and running for 17 years, was suspended by the public broadcaster. No official explanation was given for the show's termination, but ever since the implementation of a controversial national security law in 2020, which was imposed by Beijing to suppress pro-democracy protests, anything that may be perceived as criticism towards Chinese authorities has been considered sensitive. The annual Pride parade was cancelled in 2020 due to Covid-19 restrictions and there are currently no plans for its return, although a temporary Pride exhibition is in the works.
According to Evelyn Tsao, a legal advocate for human rights within the LGBTQ+ community, there is a growing trend among nonprofit organizations to limit their efforts to public education rather than actively advocating for policy change. This has resulted in a decrease in the visibility of LGBT rights groups speaking out against public policies and engaging in political lobbying.
Daly observed that although civil rights lawsuits have not been directly impacted by the current political climate, there may be a slight unease for those who are challenging the government in legal battles.
Some individuals in the pro-democracy group oppose the notion that gay rights can be treated separately from the larger suppression of freedoms in Hong Kong. In June, a coalition of activists demanded the cancellation of the Gay Games and accused the organizers of supporting those involved in the widespread oppression of Hong Kong citizens. On the opposite side, Junius Ho, a passionate pro-Beijing lawmaker, has openly stated that the games may violate the national security law.
The communications director for the games, David Ko, stated that the event is not associated with any particular political beliefs or leaders. He emphasized that the main objective is to provide a space for people from all backgrounds to unite and celebrate diversity, inclusivity, and the human spirit.
However, the games have faced challenges in avoiding political involvement. Taiwan, the sole country in Asia that has legalized same-sex marriage, chose not to participate in the event in Hong Kong due to concerns about the safety of their athletes under the national security law.
Source: theguardian.com