On Tuesday, Hurricane Otis quickly intensified from a tropical storm to a highly hazardous Category 5 hurricane as it neared the southern Pacific coast of Mexico. The president urged citizens to find safe shelter.
According to the US National Hurricane Center, the storm is expected to reach the Acapulco resort area on Wednesday morning, bringing with it the potential for catastrophic destruction.
A forecaster from the National Hurricane Center stated on Tuesday evening that Otis is quickly strengthening and poses a dangerous situation for southern Mexico as it nears the coast.
The weather service stated that the Acapulco metropolitan area is facing a very grave situation as a powerful hurricane is expected to pass near or over the city on Wednesday. They also mentioned that there have been no previous hurricanes of this magnitude in this particular region of Mexico.
The President of Mexico, Andrés Manuel López Obrador, advised citizens through the social media platform X (also known as Twitter) to seek shelter and remain in secure locations away from bodies of water and unstable terrain. He also urged them to stay vigilant and not become overly confident.
In the city of Acapulco, with a population of over one million, citizens quickly returned to their homes as the rain and wind intensified, causing tourists to seek shelter away from the beach.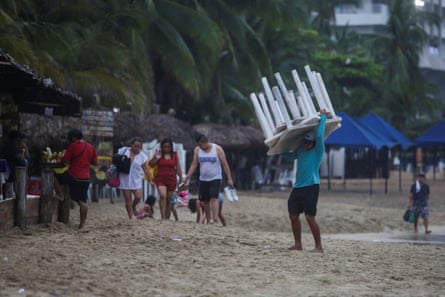 The government of Guerrero state announced that they are making preparations for 396 shelters in case families are forced to leave their homes due to wind damage or rising waters.
The military forces of Mexico, including the army and navy, have sent over 8,000 troops to the region with specialized tools to assist with rescues. The authorities have shut down Acapulco's port, which is home to approximately 300 fishing vessels.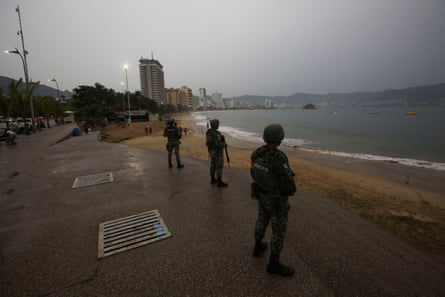 It was anticipated that Otis would deposit between five and 13 to 25cm (10in) of precipitation on Guerrero, potentially reaching up to 38cm in certain regions. This posed a potential risk of landslides and sudden floods in the steep and mountainous terrain of Guerrero.
The National Hurricane Center in the US reported that Otis had winds reaching a maximum speed of 260kph (160mph) on Tuesday evening. The storm was located approximately 90km (55 miles) south-southeast of Acapulco and was moving towards the north-northwest at a speed of 15kph.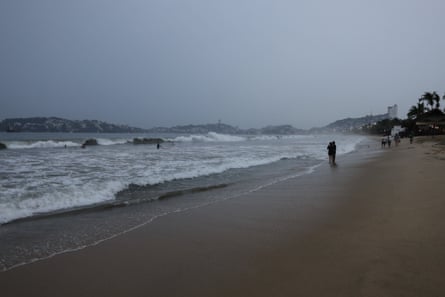 The prediction for Otis was that it would maintain its status as a Category 5 hurricane until it reaches land, but it is anticipated to lose strength quickly once it encounters the higher elevations in Mexico. It is likely that the storm will then dissipate in southern Mexico on Wednesday night.
.
A warning for a hurricane was issued for the area between Punta Maldonado and Zihuatanejo, while a watch for a hurricane is in effect from Lagunas de Chacahua to Punta Maldonado.
At this time, Hurricane Tammy is heading northeast over the Atlantic Ocean with wind speeds of 120kph. It had previously passed through the Lesser Antilles during the weekend.
According to the US National Hurricane Center, the storm was predicted to decrease in intensity by Thursday.
Source: theguardian.com