A man from Canada has been convicted of four counts of first-degree murder and one count of attempted murder for killing four members of a Muslim family. This case served as a test for the country's terror laws in prosecuting far-right extremism.
The jury deliberated for approximately six hours before finding Nathaniel Veltman guilty. He could potentially receive a life sentence without the possibility of parole for 25 years. Justice Renee Pomerance will be responsible for determining if Veltman's actions qualify as terrorism during the sentencing process.
On the evening of June 6, 2021, Veltman, who is 22 years old, was accused of deliberately crashing his truck into a family of five while they were taking a walk in London, Ontario. He has been charged with four counts of murder and one count of attempted murder.
Salman Afzaal, aged 46, along with his wife Madiha Salman, aged 44, their 15-year-old daughter Yumna, and his 74-year-old grandmother Talat Afzaal, were victims of a deadly attack. Their nine-year-old son was critically wounded but managed to survive.
Shortly after the decision was made, the National Council of Canadian Muslims shared on their social media platform that justice had been served and urged the nation to contemplate the increase in hate crimes against Muslims.
Veltman initially admitted to police that he was responsible for the deaths of the four members of the Afzaal family, but later pleaded not guilty to all accusations.
In a nine-week court case, the prosecution revealed that Veltman admitted to detectives that he purposefully left his residence on the day of the assault with the intention of targeting and killing Muslims. He claimed that he was influenced by the 2019 Christchurch massacre where a white supremacist fatally shot 51 individuals.
When authorities searched his residence, they discovered two different versions of a document that he had authored called "A White Awakening." In this document, he openly identified himself as a white nationalist.
The defense claimed that Veltman was innocent of first-degree murder and did not carry out an act of terrorism. They pointed out that there was no intention to harm the victims and no premeditated plan for the attack. Veltman also stated in court that his mental state at the time prevented him from comprehending the impact and repercussions of his actions.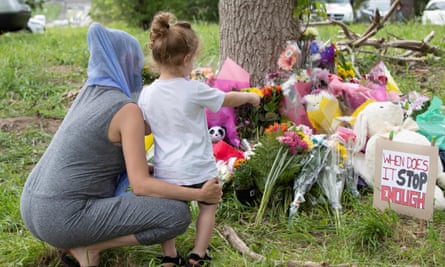 In the concluding statements on Wednesday, the defense requested a new trial, claiming that certain aspects of the prosecution's closing arguments were "excessively extreme."
Justice Pomerance deemed a mistrial to be an extreme solution and not necessary in this situation. However, the jury was instructed to disregard any emotional language or unnecessary words used by the prosecution.
Pomerance declined efforts for an "unprecedented" restriction on Veltman's "manifesto". The prosecution had requested a permanent ban on the document, but the judge sided with the media, stating that journalists have a responsibility to report on the facts of the case.
The assault sparked feelings of surprise and sadness throughout Canada, leading to renewed appeals to address Islamophobia.
The Afzaal family, who moved to London from Pakistan in 2007, were highly respected by their community. Salman worked as a physiotherapist for the elderly, while Madiha was a writer and civil engineer working towards her PhD.
Yumna, a painter, has left her mark at London Islamic School through a breathtaking mural that covers an entire wall and is inspired by space. It features the quote, "aim for the moon, even if you miss, you'll still reach the stars." Talat, an artist and educator, was the backbone of their family and shared cherished walks with them every day.
The court's decision in this case may provide more understanding of the anti-terrorism laws in the country, which were enacted following the events of September 11 in the US. The Terrorism Act states that the prosecution must demonstrate that Veltman's actions were politically, religiously, or ideologically motivated and that he intended to intimidate or instill fear in the public. Historically, this law has primarily been used to prosecute individuals involved in violence linked to Islamist extremism. This trial of Veltman marks one of the few instances where the law has been used to prosecute someone believed to have been driven by far-right ideology.
"We all have a duty, both as individuals and as a community, to actively oppose and challenge hatred in any manifestation. This ruling does not excuse us from that duty," stated Josh Morgan, the Mayor of London. "Rather, it should be a constant reminder of our obligation to continue our efforts and prevent such incidents from occurring again."
The court is scheduled to reconvene on December 1st to determine the date of Veltman's sentencing.
Source: theguardian.com