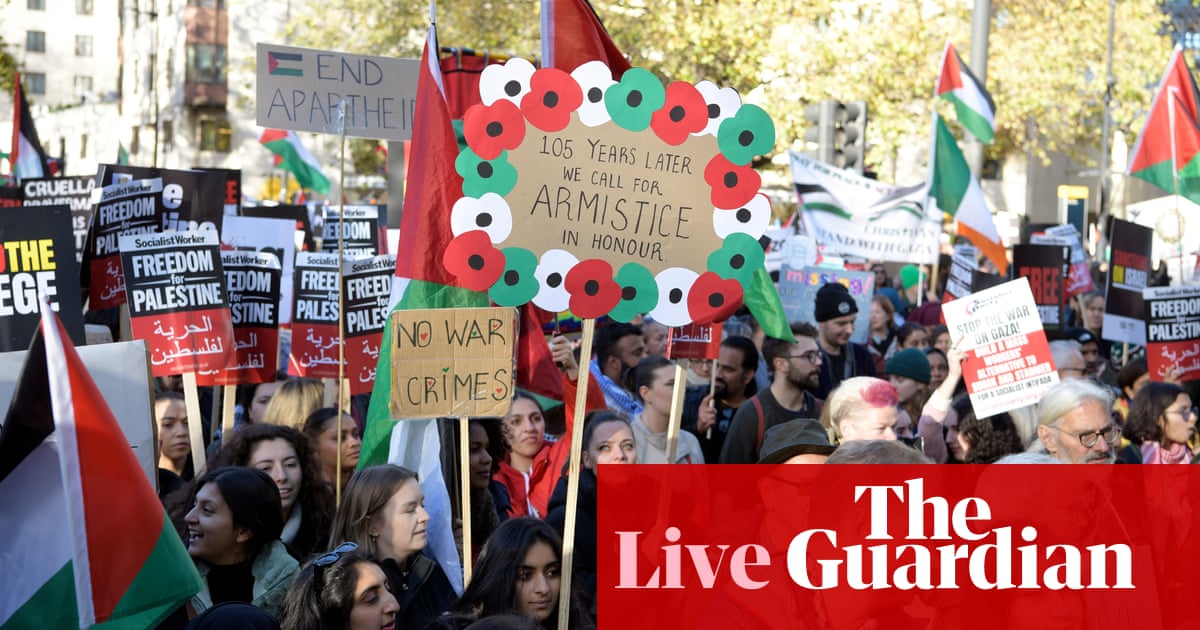 London will handle any instances of disorder and make sure important locations are secured prior to tomorrow's commemorative events.
Live coverage of the pro-Palestine march in London. We are concluding our coverage now, but here is a recap of the important moments from the day:
Today, a large number of individuals joined a demonstration in support of Palestine in London. According to the Metropolitan police, approximately 300,000 people gathered in the city, while the event's organizers estimated the number to be closer to 800,000, making it one of the largest marches in British history.

The Metropolitan Police reports that 126 individuals have been detained in London due to the presence of considerable aggression. Matt Twist, assistant commissioner, described the "severe violence" directed at law enforcement by right-wing demonstrators as "unusual" and "extremely alarming". He also revealed that several groups of far-right protesters were subjected to search and seizure, resulting in the discovery of weapons such as a knife and baton, as well as illegal substances classified as Class A drugs.

Police have detained approximately 150 individuals who were demonstrating in support of Palestine at Grosvenor Place in Belgravia during the evening. The Metropolitan Police reported that a separate group from the main protest were setting off fireworks and some were concealing their faces. Several arrests were made when officers were hit in the face by fireworks.

The Metropolitan Police have identified several serious offenses related to hate crime and potential support for Hamas during the protest, and are currently conducting an investigation.

Nine police officers sustained injuries on Saturday. Two of them had to receive treatment at the hospital after successfully preventing a violent crowd from reaching the Cenotaph during a remembrance ceremony.

Rishi Sunak has denounced the "violent displays" by the far-right organization known as the English Defence League and its affiliated groups, as well as "Hamas supporters".

Suella Braverman has come under fire for her part in "inflaming tensions". Anti-fascist group Hope Not Hate called for the home secretary to resign, while politicians, including Yvette Cooper and Sadiq Khan both highlighted the negative effect of the home secretary's comments.

Pro-Palestinian demonstrators surrounded Michael Gove at Victoria station. They shouted "shame on you" as the secretary for communities, accompanied by police, walked through the main area.
According to the PA, London will have twice as many officers on duty this weekend than usual, with 1,375 officers present on Sunday. The PA also mentions that the Cenotaph will have continuous police surveillance until the end of the Remembrance events.
There is an increasing demand for Rishi Sunak to dismiss his home secretary.
Braverman faced increased pressure on Saturday due to acts of far-right violence. She referred to pro-Palestinian protesters as "hate marchers" and accused the police of showing bias by allowing the rally to occur.
In an opinion article published in the Sunday Telegraph, Starmer stated: "The actions of the home secretary and the prime minister towards both the police and protesters this week – just days after her shameful remark that homelessness is a 'lifestyle choice' – demonstrate a complete disregard for this country's values and principles."
Suella Braverman has been actively contributing to creating division, pitting the British population against each other, and planting the seeds of animosity and suspicion. By doing this, she is diminishing the value of her position.
London is prepared to handle any instances of chaos and safeguard important areas ahead of tomorrow's commemorative gatherings.
A video on X, previously known as Twitter, displays protesters holding flags and moving towards Gove while police officers from the Metropolitan force pushed them back and yelled for them to retreat. More information about this event can be found below.
The Campaign Against Antisemitism has issued a statement asserting that Sir Mark Rowley, the Metropolitan Police Commissioner, is not adequately addressing the concerns of Britain's Jewish community. The statement also raises concerns about why the recent march was permitted to occur.
The CAA reports that the Jewish population is feeling immense fear and expresses concerns about families being singled out while leaving synagogues. The statement emphasizes disappointment with the handling of recent protests and calls for accountability from Sir Mark Rowley. It suggests that he should address the concerns of the British Jewish community, whom he has failed to protect.
London said:
I want to commend the Met police for their exceptional professionalism in managing an extremely challenging day. The vast majority of individuals exercising their democratic right to protest in London today did so peacefully.

Unfortunately, we have witnessed violent actions from far-right individuals against the police, as well as some who have used the pro-Palestinian demonstration as a platform for spreading hate and prejudice, including anti-Semitism. This behavior is unacceptable, as is any attempt to intimidate politicians.
Khan stated that the extremist right-wing group had been motivated and empowered by recent remarks made by prominent figures, such as Suella Braverman, in the past week.
It is important to consider the effects of our words and actions on others.
He expressed his complete backing for the Met's efforts to punish those who have broken the law. He also stated his ongoing support for their "zero-tolerance approach" towards individuals who engage in violent acts or spread hate.
The organization Hope Not Hate has demanded the resignation of Suella Braverman following the far-right confrontations at the Cenotaph on Saturday. Nick Lowles, the CEO of Hope Not Hate, stated that the home secretary is accountable for ensuring the safety of all communities and preventing any repercussions from global events in our country. Lowles also remarked that her actions in recent weeks have been contradictory to this responsibility, as she has stirred up tensions and incited the far-right to engage in violent acts. He firmly believes that she must step down from her position.
The organization, which keeps a watchful eye on and advocates against extremist groups, reports that they had been observing the far-right's reaction to the pro-Palestinian protests, but only noticed a call to action after Braverman mentioned the Cenotaph and Armistice Day.
The Metropolitan police report that approximately 150 individuals have been arrested at the pro-Palestinian protest in Grosvenor Place, Belgravia.
The group was setting off fireworks and several individuals were wearing face masks. They mentioned that authorities were utilizing their Section 60 and 60AA authority to apprehend and inspect those participating.
Source: theguardian.com