Jess Phillips, a Labour MP, has resigned from the frontbench in protest of Keir Starmer's position on Gaza. She voted in favor of a ceasefire in the Israel-Hamas conflict during a Commons session.
The Member of Parliament for Birmingham Yardley expressed her regret as she stepped down from her position on the Labour frontbench and resigned as the shadow minister for domestic abuse and safeguarding.
On Wednesday night, she was among 56 members of the Labour Party who voted in favor of the Scottish National Party's amendment to the king's speech. This group included eight members from the shadow cabinet. Below is the complete text of her letter.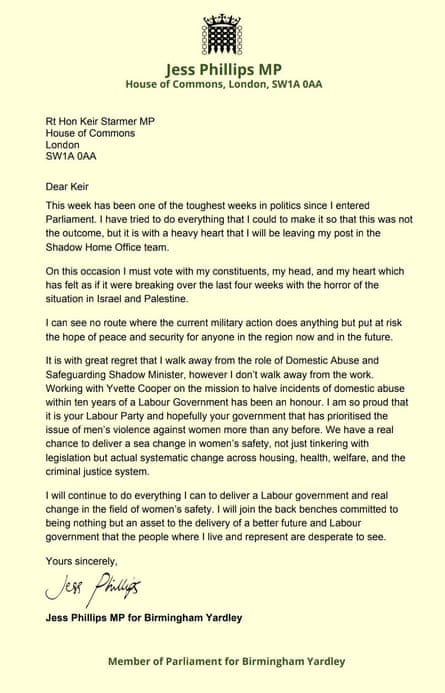 Dear Keir,

This past week has been particularly challenging in the political realm since I first became a member of parliament. I have done my best to prevent this result, but with a heavy heart, I must announce my departure from the shadow Home Office team.

During this instance, I must cast my vote in alignment with the beliefs of my constituents, my own thoughts, and my emotions that have been deeply affected by the distressing events in Israel and Palestine over the past four weeks.

I can see no route where the current military action does anything but put at risk the hope of peace and security for anyone in the region now and in the future.

Unfortunately, I am resigning from my position as the domestic abuse and safeguarding shadow minister, but I will continue to support this important work. Collaborating with Yvette Cooper on the goal to reduce domestic abuse by 50% within 10 years of a Labour government has been a privilege. I am proud that our Labour party, and hopefully our future government, has made it a priority to bring about significant improvements in women's safety, not just through minor adjustments to laws, but through comprehensive changes in housing, healthcare, welfare, and the criminal justice system.

I am devoted to achieving a Labour government and enacting tangible improvements in women's safety. I will join the backbenchers in contributing positively towards the realization of a brighter future and a Labour government that my constituents are eager for.

Yours sincerely,

Jess Phillips
Source: theguardian.com