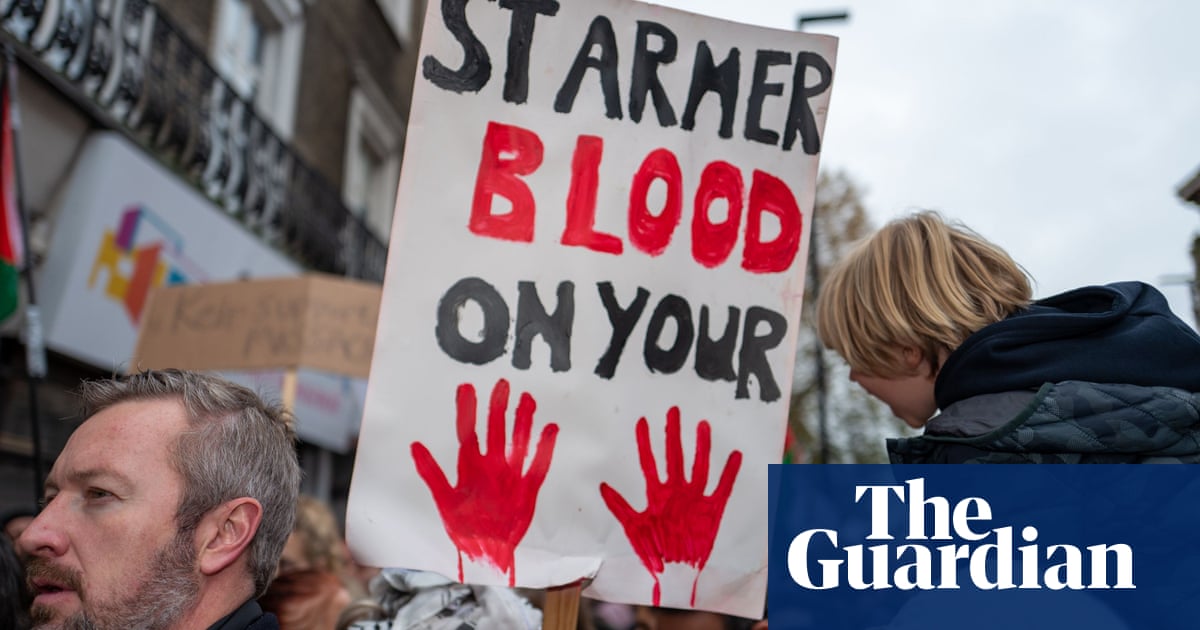 Rachel Reeves, the shadow chancellor, has stated that certain protests against MPs for their views on the Gaza conflict have gone beyond peaceful demonstration and turned into acts of intimidation.
Several Members of Parliament have already expressed worries about their safety and the safety of their staff in anticipation of a weekend with over 100 pro-Palestine events scheduled throughout the UK. These events were organized by campaigners in hopes of pressuring parliament members who did not vote in favor of a Scottish National Party resolution last week, which urged for a ceasefire.
On Saturday, a large group of individuals paraded through Keir Starmer's district and gathered outside his office in Camden to express their disapproval of his lack of action in calling for a ceasefire. Additionally, other demonstrators gathered outside the residence of at least one Member of Parliament on the same day.
During an interview on Sky News's Sunday Morning with Trevor Phillips show, Reeves was questioned about demonstrations happening outside of MPs' offices. In response, she stated, "I support the right to protest, but I do not condone intimidation."
In my opinion, certain demonstrations in recent days have transitioned from being peaceful protests to acts of intimidation.
"I find it completely unacceptable to protest outside of individuals' homes and put pressure on them in that manner."
According to a spokesperson for the Metropolitan police, the force is aware that certain MPs have expressed increased concerns regarding their safety and security.
We understand that any protest that causes excessive disruption, turns into criminal or disorderly behavior, or behavior that induces fear and intimidation will result in intervention and action by officers, such as making arrests.
As the challenges from the conflict continued to play out in the UK, the shadow foreign secretary, David Lammy, is making Labour's first visit to Israel and the occupied Palestinian territories since the Hamas attack on 7 October and the resulting atrocities.
In addition to interacting with individuals such as Israeli president Isaac Herzog, Lammy will also have a meeting with Amal Jadou, the Palestinian Authority's deputy foreign minister, in the West Bank.
Lammy emphasized the need for strong diplomatic efforts with all governments in the region in order to quickly implement a longer ceasefire, address the urgent humanitarian crisis in Gaza, and secure the release of hostages held by Hamas. This is seen as a crucial step towards achieving a lasting end to the violence.
Several Members of Parliament in the UK have reached out to the police for assistance in strengthening security measures. The chair of the Women's Parliamentary Labour party, Siobhain McDonagh, has organized a meeting on Tuesday to evaluate the level of threat and provide reassurance as needed.
The Palestine Solidarity Campaign has stated that Members of Parliament should be prepared to face consequences for their statements or votes on issues that greatly affect their constituents. According to a spokesperson, peaceful protests outside of constituency offices are a valid aspect of the democratic system.
The demonstrations occurred after the vote on Wednesday evening, during which 56 Labour Members of Parliament, including 10 members of the frontbench, went against party directives and voted against a ceasefire. Starmer's stance is that advocating for a ceasefire would be ineffective since Hamas has declared its intention to persist in attacking Israel.
On Thursday, there has been a lot of attention on three Muslim shadow ministers who stayed faithful to the party, particularly Rushanara Ali, the representative for Bethnal Green and Bow. Her office was surrounded by protesters.
Source: theguardian.com