Novo Nordisk, the company behind the obesity vaccine, proposed to high-ranking government officials the idea of identifying and targeting benefit recipients who are most likely to successfully re-enter the workforce with their weight-loss injections.
According to documents obtained by the Observer, Pinder Sahota, corporate vice-president of Novo Nordisk UK, informed the former health secretary Steve Barclay, England's chief medical officer, and Treasury officials that utilizing data from the Department for Work and Pensions (DWP) could assist in identifying individuals who are more likely to re-enter the workforce.
The CEO of Novo Nordisk, Lars Fruergaard Jørgensen, mentioned the importance of focusing on a specific group in order to increase participation in the labor market. This group includes individuals who are on the brink of employability but face challenges due to obesity.
During a closed-door meeting earlier this year, executives from Novo Nordisk discussed with top policymakers the recommendation by the National Institute for Health and Care Excellence (Nice) to use their obesity drug, Wegovy, in the NHS in England.
Barclay reportedly requested a meeting with Sahota, Jørgensen, and other executives from Novo Nordisk on March 21 at the Department of Health and Social Care. The purpose of the meeting was to discuss a proposed pilot program aimed at enhancing obesity treatment in the UK.
During the meeting, attendees included Prof Chris Whitty, England's chief medical officer, Treasury representatives, and Prof Sir John Bell, an Oxford professor and member of the Novo Nordisk-Oxford strategic alliance committee. Meeting minutes were made public through freedom of information laws.
At the gathering, participants talked about the possible advantages for the community if weight-loss injections were offered through a local pilot program, along with additional support services like counseling for employment.
Government officials inquired with Novo Nordisk about the ongoing pilots for Wegovy and their potential impact on the labor market. Novo Nordisk responded that the pilots were not currently assessing this impact. A representative from the Treasury expressed a desire for more information on the timeline for the pilots and how soon they could yield results in terms of economic impact.
The executive vice-president of development at Novo Nordisk, Martin Holst Lange, stated that establishing a community-based pilot program could result in economic benefits as well as health benefits. Jørgensen and Sahota added their thoughts about specifically targeting certain individuals who would benefit from the program.
It is uncertain if the government implemented Novo Nordisk's proposal to focus interventions on specific benefit recipients. The Department of Health stated this weekend that they do not intend to utilize DWP data to categorize benefit claimants. Nevertheless, the primary objective of their efforts to expand access to weight-loss injections is believed to be to help individuals return to employment.
In March, the Times revealed that a new generation of weight-loss medications may be made available to millions of individuals as part of a plan to combat obesity and help those receiving benefits return to employment. This information was reportedly shared by government representatives.
No one at the meeting seemed to challenge the remarks about targeting individuals who receive benefits. The minutes state that the meeting ended with Jørgensen noting that the government has a strong interest and a shared vision, but still needs to work out some details.
Barclay, recently transferred from his position in the health department to become the environment secretary in Rishi Sunak's cabinet reshuffle, expressed his appreciation for Novo Nordisk's contribution to the government's main goal of promoting equality and thanked them for their productive conversation on mutual objectives.
The government recently revealed a £40 million trial program to investigate the potential expansion of access to approved weight-loss medications for a larger population than what is currently allowed by Nice guidelines. This may involve allowing general practitioners to prescribe the drugs, rather than restricting them to specialist weight-loss clinics.
In June 2023, the prime minister and Department of Health released a statement stating that the pilot program could potentially result in reduced NHS waiting lists and have broader economic advantages.
According to Prof Simon Capewell, a specialist in public health policies and an emeritus professor at Liverpool University, the statements made by executives from Novo Nordisk were both alarming and completely unethical. He further stated that these comments imply prioritizing the state's economic interests rather than the individual's own well-being and health.
He expressed concern about a proposed pilot program that would target individuals who were close to being able to return to work for receiving injections. He believed this would be unethical and could potentially skew the results in favor of the company. He stated that if the program only included individuals who barely met the obesity criteria and were just on the verge of being able to return to work, it would serve as a great marketing opportunity for the company.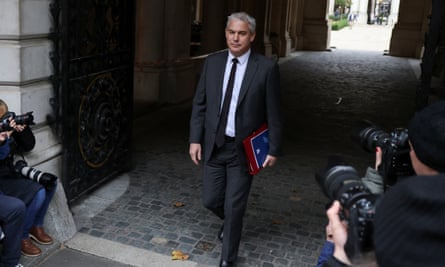 Debbie Abrahams, a Member of Parliament from the Labour party and co-chair of the all-party parliamentary group on universal credit, as well as a member of the Work and Pensions Committee, expressed concern over the proposal by Novo Nordisk to specifically target individuals receiving benefits. She stated that this suggestion raises ethical concerns, even if the individuals give their permission for their personal data to be used.
The minutes of the meeting, published by the Department of Health, also reveal that executives from Novo Nordisk advocated for increased partnership with the government on obesity services. Sahota proposed integrating with "Boots, WeightWatchers, and digital health programs authorized by NHS England".
The pharmaceutical company proposed that their injections should be administered not only to individuals with a high body mass index (BMI) who require assistance, but also to those with a lower BMI who are at risk of developing related health conditions. Currently, the National Institute for Health and Care Excellence (Nice) only suggests the use of Wegovy for people with a BMI over 35 and at least one obesity-related comorbidity, or for those with a BMI of 30 to 34 and a comorbidity who qualify for specialized weight management services.
Over the weekend, Novo Nordisk stated that it rejected any accusations of "unethical behavior". While it acknowledged that remarks were made about profiling those who receive benefits, the company clarified that the government was responsible for initiating discussions about a trial program and that it had no involvement in its creation or implementation.
The company stated that it follows ethical and transparent practices in its clinical trials, adhering to industry and regulatory guidelines. It acknowledged the government's goal of promoting healthier and more productive lives and facilitating workforce reentry. As a result, there have been initial talks about the potential impact of treating obesity in achieving this goal.
However, it was previously stated that it is essential for a pilot to adopt a diverse, community-oriented method and that evaluating productivity solely on one measure would be challenging since there could be multiple factors influencing an individual's ability to return to work.
A representative stated that misrepresenting conversations with partners and taking them out of context can distort the truth and negatively impact those with obesity and their ability to receive healthcare.
"As invited participants, Novo Nordisk offered the UK government insights on the impact of economic inactivity and the potential for addressing obesity to improve individuals' health and productivity."
During the discussion, we addressed the government's plans for a trial program to improve assistance for individuals with obesity. We emphasized the importance of prioritizing comprehensive, team-based support and utilizing community resources.
The Health Department reported that officials held meetings with various parties and that diverse perspectives were likely shared during those discussions. They stated that there are currently no intentions to utilize information from the DWP to focus on treatments for obesity.
A representative stated: "We are working on establishing the qualifications for Wegovy to be covered by the NHS, which will not be aimed at individuals receiving benefits."
Source: theguardian.com