On Sunday night, approximately 100 youths engaged in confrontations with law enforcement in Edinburgh. They threw petrol bombs and fireworks at the officers.
Police in riot gear were assaulted at around 5pm in the Niddrie neighborhood of the city, where there were previous incidents of violence involving youths last year.
Aerial footage from a drone captured a group of law enforcement officers holding riot shields and blocking vans with flashing blue lights, in a tense confrontation on Hay Avenue. A crowd of youth gathered on the lawn in front of them and started hurling pyrotechnic devices.
Cammy Day, the leader of Edinburgh city council, cautioned that they could be prosecuted.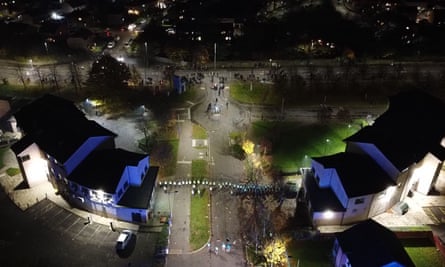 A representative from Police Scotland stated that officers at the scene are currently facing assaults involving fireworks, petrol bombs, and other objects. The public is advised to steer clear of the area until the situation is resolved.
"
Currently, specialized law enforcement personnel, deployed for Operation Moonbeam, are assisting local officers in the Hay Avenue neighborhood of Edinburgh. This is in response to reports of a significant number of young individuals engaging in disruptive and dangerous behavior involving fireworks in the area.
Currently, the police are actively responding to ensure the safety of the public and emergency personnel. As a precaution, certain roads in the area have been closed.
According to reports from PA Media, last year in Niddrie, the local community was terrorized by motorbike gangs during Bonfire Night. During this time, fireworks were also being recklessly thrown on the ground.
In 2018, the authorities in Scotland launched Operation Moonbeam to address the issues surrounding Bonfire Night. On Tuesday, police were called to Kirkton, Dundee after reports of children as young as 10 setting off fireworks.
Source: theguardian.com