A female individual who experienced severe complications due to a vaginal mesh insertion has received a historic settlement of at least £1m from the National Health Service (NHS).
In 2009, Yvette Greenway-Mansfield, 59, received a mesh implant at Coventry's University Hospital. However, she experienced severe complications as a result. During her medical negligence lawsuit against the hospital trust, it was discovered that the surgery was performed too soon and was unnecessary. Additionally, her consent form had been altered to include extra risks after she had already signed it.
Greenway-Mansfield expressed that receiving the compensation brought a sense of immense relief. However, they also noted that numerous other women who have experienced comparable harm have not received adequate compensation. They also criticized the government for not setting up a financial restitution organization for victims.
She stated, "I am not alone. There are numerous others like me who have suffered from mesh-related injuries." She believes that there should be a fund set up to compensate these women and a plan in place to provide care for those affected by mesh. This issue ultimately stems from society's views on women and their health problems, which she and many others are tired of.
In 2009, Greenway-Mansfield went to see her doctor due to experiencing discomfort in her lower abdomen and urinating more frequently. She was worried about drinking fluids because of these symptoms. The doctor diagnosed her with a uterine prolapse and a gynecologist suggested she have a vaginal hysterectomy and get a transvaginal tape (TVT) mesh implant.
At first, the operation seemed to have been a success. However, in 2017, during a work trip to New Zealand, she started to have pain and bleeding. When she returned to the UK, it was suggested that the mesh used in the surgery may have begun to deteriorate into the vaginal wall. Greenway-Mansfield was surprised to learn this as she was not aware of such potential complications.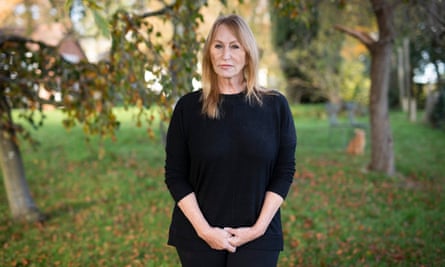 The intensity of her pain increased, but she was informed that there was no clear medical remedy. In February 2020, she underwent a procedure to remove the mesh at Spire Bristol Hospital through a private referral. However, she currently experiences urinary and fecal incontinence as well as chronic pain.
The investigation revealed that the consent form for Greenway-Mansfield's procedures was modified after she had already signed it. The hospital's version of the form listed additional risks, such as cystoscopy, tape erosion, pain, overactive bladder, and deep vein thrombosis, which were not included in the original carbon copy that Greenway-Mansfield had kept. Greenway-Mansfield expressed shock and satisfaction upon seeing the discrepancies.
She expressed, "If I hadn't kept those documents, I could potentially be in court, facing intense questioning and being accused of lying. It saddens me to think of other women who have to endure such experiences."
The operation was performed without considering alternative methods, such as physical therapy and bladder training, beforehand.
Neil Clayton, a partner specializing in clinical negligence at Lime Solicitors, stated that they represented Greenway-Mansfield and that the University Hospitals Coventry and Warwickshire NHS Trust had a responsibility to ensure that Mrs Greenway-Mansfield gave fully informed consent for any surgical procedure and was informed of the potential risks that could occur as a result.
"
The gynecologist performed surgery too soon without trying all possible behavioral and medical solutions. Additionally, she performed the incorrect surgery for the incorrect condition and proceeded with the surgery unnecessarily. It is especially concerning that Mrs. Greenway-Mansfield signed a consent form that was later changed to include risks she was not informed about.
No sum of money can adequately make up for the suffering and ongoing pain that Mrs Greenway-Mansfield has endured, along with the long-term care she will need, all of which could have been avoided if she had not been given mesh in the beginning.
A representative from University Hospitals Coventry and Warwickshire NHS Trust stated that they have personally apologized to Mrs Greenway-Mansfield and acknowledged the impact that the procedure in 2009 has had on her life. The use of vaginal mesh for treating stress urinary incontinence or pelvic organ prolapse has been put on hold in England since 2019, with specialized centers being established in 2022.
It is our hope that the agreement will allow Mrs. Greenway-Mansfield to meet her ongoing care needs and ensure stability for her and her family in the years to come.
Source: theguardian.com