Throughout the season, Carlos Alcaraz was the sole player who could match Novak Djokovic's level at the most prestigious tournaments worldwide. Despite their many memorable matches and Alcaraz's impressive accomplishments this year, Djokovic remains the dominant force.
On Saturday evening in Turin, the world No 1 underlined his undisputed status as the best player in the world by producing an incredible performance as he picked Alcaraz apart with ease 6-3, 6-2 to reach his ninth final at the ATP Finals. If he wins it will be his seventh title.
The final, most important meeting of the ATP season will be determined by a captivating rematch between Djokovic and his opponent from the group stage, Jannik Sinner. The Italian player maintained his impressive momentum by defeating Daniil Medvedev 6-3, 6-7 (4), 6-1 and advancing to the biggest final of his early career.
In a typical elimination competition, the top two competitors would not compete against each other in the semi-finals. Their advancement to this round was a result of Djokovic narrowly avoiding elimination in the group rounds and securing second place behind Sinner.
As is often the trend in Djokovic's career, he was able to rise to the occasion when it counted. The first set between the top two players in the world was fast-paced and intense, with both players hitting clean shots and aggressively going after points.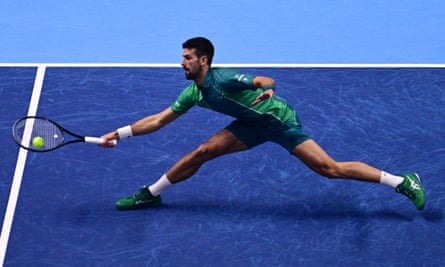 Djokovic was performing at a superior level. When Alcaraz served at 3-4, the Serbian player countered his initial attack and focused on exploiting Alcaraz's backhand as the rallies continued. This strategy ultimately caused Alcaraz's backhand to falter. After securing the break, Djokovic impressively served out the set.
Alcaraz was down a set and a break, facing an imminent loss. But he fought back in Djokovic's service game at 2-3, using powerful forehands to earn himself a chance to break and stay in the match. However, Djokovic raised his game to an incredible level and saved the break point with an impressive forehand winner. He then went on to secure an unbelievable hold. This defeat seemed to crush Alcaraz's spirits and Djokovic easily claimed victory.
Ultimately, Djokovic's jubilation was restrained as his triumph spoke volumes. This has been a remarkable year for Alcaraz, as he solidified his position at No 2 and continues to be a formidable contender for the top spot at just 20 years old. However, for the time being, even after many years, Djokovic still reigns supreme.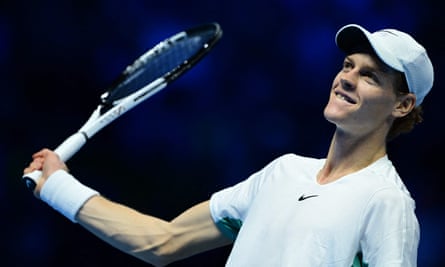 In most other situations this year, if Alcaraz was not participating in the tournament and Djokovic was performing at such a impressive level, the 36-year-old would be the clear and undeniable frontrunner to win the entire event. However, the central figure of this tournament thus far was already anticipating facing him in the final round.
Sinner arrived in Turin after an incredible autumn run that earned him two titles and a rise to a career-high ranking of world No 4. In front of a home crowd, the 22-year-old has only built more momentum as he plotted his path to the final with an unbeaten 4-0 record. Sinner has not only paired his blistering, perfectly timed groundstrokes with an increasingly three-dimensional game, but he has also found the mental toughness and decisiveness that has sometimes evaded him.
Defeating Djokovic in a major tournament is considered one of the greatest accomplishments in a modern men's tennis career, but Sinner has taken on an even more difficult task.
After defeating Djokovic with scores of 7-5, 6-7 (5), 7-6 (2), Sinner secured his spot in the semi-finals by also defeating Holger Rune in three sets on Thursday night. This puts him on track to win the tournament, making him the first player ever to beat Djokovic twice in the same singles event.