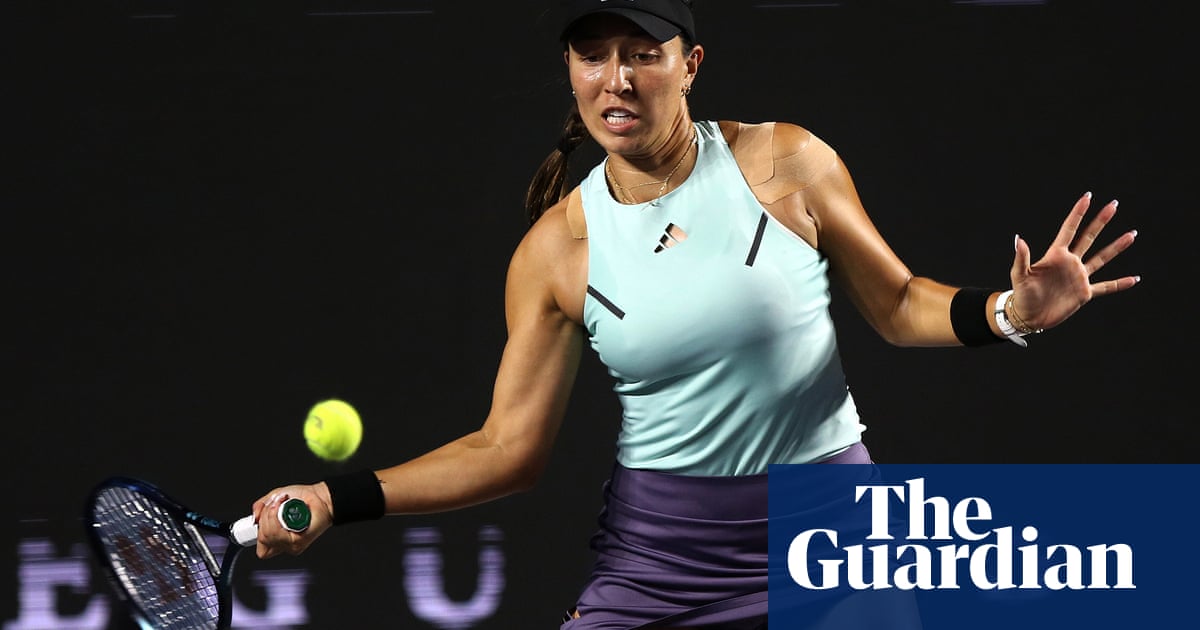 The current WTA Finals have experienced a rebellion from dissatisfied top players, a questionable court surface with many awkward bounces, and terrible weather conditions due to hurricane season in Cancún, Mexico. The wind is unpredictable and strong, with frequent rain showers.
Despite the chaos and upheaval, Jessica Pegula has remained a model of unwavering stability. In a match against fellow American and top seed Coco Gauff on Saturday evening, Pegula emerged victorious with a score of 6-2, 6-1, solidifying her spot in the most significant final of her successful career.
Pegula has maintained her undefeated status this week and is only the third player in the past two decades to make it to the final match of the WTA Finals without losing a set.
In the championship, Pegula will compete against either Aryna Sabalenka, the top-ranked player, or Iga Świątek, the second seed. The semi-final match between the two players was postponed due to rain when Świątek was leading 2-1 in the first set. Both players will have to return on Sunday to complete the match, with the year-end ranking at stake.
Last year, Pegula's initial participation in the WTA Finals resulted in disappointment as she lost all six matches in singles and doubles, only winning one set in singles. However, the 29-year-old is back with a determination to showcase her skills against the world's top players.
During the initial rounds, Pegula effortlessly defeated strong opponents such as Elena Rybakina, Sabalenka, and Maria Sakkari in consecutive matches, ultimately advancing to the semi-finals without losing a single set.
As long-time doubles partners, Pegula and Gauff presented an intriguing match-up on paper. The roaring wind and constant rain delays, though, meant this encounter was always likely to be decided by how each player would handle the conditions. Their form during the week, with Gauff struggling to find her feet despite reaching the semi-final, placed Pegula as a clear favourite.
Pegula's playing style may not have the flash or excitement of other elite players, but it is composed and reliable. Her groundstrokes are executed with precision and fluidity, and she combines them with controlled and strategic aggressive shots.
Pegula displayed exceptional consistency and precision in extremely unfavorable weather conditions. She maintained excellent depth on both her forehand and backhand, not giving her opponent any easy opportunities. In contrast, Gauff struggled to find her rhythm and her forehand suffered from frequent breakdowns due to the wind.
"I've received a lot of feedback that I am strong in technical skills, so I believe there won't be many mistakes. My biggest challenges may be mental and improving my footwork, but I have made significant progress in that area," stated Pegula.
Pegula's latest triumph is a testament to her consistent growth as a professional athlete. With a record of 59 wins and 17 losses this year, she has surpassed her performance from the previous season by 17 wins. Furthermore, she has reached a milestone of 100 career victories in both singles and doubles, earning her the top spot in the world rankings.
Pegula, who developed later in her career and primarily competed on the ITF circuit, consistently demonstrates the importance of dedication, a positive outlook, and a humble attitude.
For Gauff, a bitter defeat closes off an incredible season, which saw her bounce back from an extemely difficult summer to clinch her long awaited first grand slam title at the US Open.
During the off-season, there will be a fresh opportunity for her and her new coach, Brad Gilbert, to focus on making technical enhancements to her game. Specifically, they will be working on improving her forehand.
However, she has not completed her match yet. In the next day, despite the many rain delays and Pegula's upcoming singles final, Gauff and Pegula will resume their round robin doubles match against Laura Siegemund and Vera Zvonareva, which was postponed on Friday due to rain.