Iga Swiatek's journey towards becoming one of the top players of her era was solidified as she effortlessly defeated Jessica Pegula 6-1, 6-0 to claim her first ever WTA Finals title in her early career.
At the young age of 22, she has earned her sixth championship of the year and 17th overall. This will secure her spot as the top-ranked player of 2023 for the second year in a row, surpassing Aryna Sabalenka with a win in Cancún. This week will also mark her 76th week at No. 1, making her the 10th player in history to hold this position for the most weeks.
Pegula, the fifth seed, had arrived in her first final at the WTA Finals in brilliant form having dismantled all four opponents en route. Her 2-1 record against Swiatek this year demonstrated her growth. When Swiatek is in full flow, though, almost nobody can live with her.
At the start, the Polish player dominated Pegula with powerful and forceful shots, especially her aggressive forehand with strong topspin, breaking through the American's defensive strategy. Swiatek's superior speed and agility gave her an advantage in longer rallies and she returned with impressive skill, dismantling Pegula's serves.
Pegula struggled to combat Swiatek's dominant performance, taking increasingly risky actions as her mistakes accumulated and the end approached swiftly. It is remarkable how Swiatek has defeated numerous top players in the past two years, with many of her most one-sided wins occurring in finals. Despite having one of her strongest weeks in her career, Pegula was not immune to Swiatek's prowess.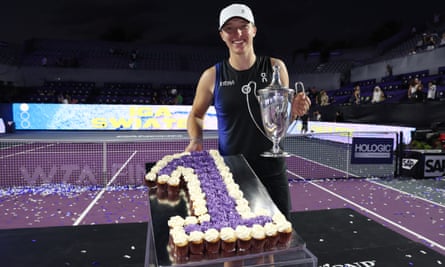 Having dropped just 20 games in her five matches over the past week, Swiatek's title run is by far the most dominant in the history of the WTA Finals. Serena Williams previously held the record with 32 games lost during her 2012 triumph.
This year has presented a number of challenges for Swiatek as she attempts to replicate her impressive performance in the 2022 season, while also dealing with the added pressure that comes with it. Following her loss of the No 1 ranking in September, when she was defeated by Jelena Ostapenko in the fourth round of the US Open, she acknowledged struggling to play without constraints.
After successfully overcoming those obstacles, Swiatek concludes the season with an even more prominent standing. She wraps up with an impressive record of 68 wins and 11 losses, along with six titles, including her fourth Grand Slam victory at the French Open. Furthermore, she solidifies her position as the top player in the world, leaving no doubt about her superiority.