At first, George Harrison was not a fan of it. Fans had always believed that it would never see the light of day. However, the last song by The Beatles, titled "Now and Then," will be released at 2pm GMT. This unexpected release serves as a final tribute to arguably the greatest band in the UK.
"It's a significant moment," states Dr. Holly Tessler from the University of Liverpool, a specialist in the history and impact of The Beatles. "It's surreal to consider that a band that disbanded over 50 years ago is declaring that this is our final song… in a sense, Paul and Ringo, both now in their 80s, are marking a conclusion. It's a sentimental moment for nearly all Beatles enthusiasts; it gives the feeling of closure. Therefore, I believe it holds great significance."
The track includes musical input from each of the quartet's members, with guitar being recorded by the deceased George Harrison in 1995 and vocals provided by John Lennon from the original late-70s demo. Lennon wrote and sang the song at his residence in the Dakota building in New York City, where he was tragically killed in 1980.
In 1994, Yoko Ono, the widow of John Lennon, gave a cassette with a label reading "For Paul" to Paul McCartney. The cassette included vocals from Lennon for the songs Free As a Bird and Real Love. McCartney, along with George Harrison and Ringo Starr, completed the songs and they were released in 1995 as part of the Beatles' Anthology project. However, Olivia Harrison, the widow of George, has stated that he believed the technical difficulties with the song "Now and Then" were too great to overcome and therefore it was not possible to finish it to a satisfactory level. As a result, the song has been put on hold since then.
Philip Norman, known for his biographies on Lennon, McCartney, and Harrison, including the popular Shout! The True Story of the Beatles, reveals that during the 1990s there was a constant conflict between George Harrison and Paul McCartney over the release of this particular song. Harrison had previously deemed it unfit for release, but with the advancements in artificial intelligence, it has now been modernized.
The AI technology was utilized to enhance the isolation of Lennon's vocals – although McCartney has made sure to clarify that nothing was artificially or synthetically created. It is all authentic and we all contributed to it. The Lennon vocals were then incorporated into new sections of the song which were recorded by McCartney and Starr, along with guitar parts recorded by Harrison in 1995. Additionally, a new string arrangement was added.
Olivia Harrison stated that George would have enthusiastically joined Paul and Ringo in finishing the recording of "Now and Then". McCartney described the project as being emotionally charged, and expressed excitement about still working on Beatles music in 2023 and releasing a new song that the public has not yet heard.
Norman describes the release as a significant occasion, but doubts that it will capture the same energy and sense of togetherness found in other Beatles songs, despite the advantages of AI technology for improving vocals and quality. He believes the Beatles had a strong sense of collective creativity, often referred to as "group mind" by psychologists, and doubts that Now and Then will be able to replicate that.
Although he has not listened to it, he is convinced that "Now and Then," which was originally written solely by Lennon, will differ from the typical Beatles style. He explains, "John Lennon was not typically the lead singer – they were always a cohesive band. That was their greatest strength, and it's what made their breakup so heartbreaking. They had a unique male choral sound that was not common before the Beatles formed. And then suddenly, everyone started imitating it."
According to Norman, "Now and Then" serves as a reminder of John's feelings of isolation. During a conversation with Yoko Ono, he questioned why Paul's songs were being covered more than his own. While John's legacy is secure, he struggled with insecurities.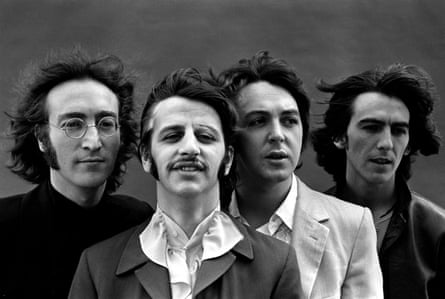 According to Tessler, the launch of Now and Then could potentially alter the perception of the band's overall impact and cultural significance. She believes that for those who are 53 and younger, the absence of the Beatles has been a constant in their lives. As the band's breakup in 1970 was not amicable, Tessler sees this release as an opportunity to create a more sentimental and meaningful ending, rather than the original narrative of four angry young men refusing to collaborate.
This is a long-lasting friendship that has lasted a lifetime. While history cannot be erased, it will provide us with a new perspective on the Beatles, who have continued to collaborate in some capacity since the 1960s until 2023.
Ed Ruscha, a visual artist, designed the artwork for the single. The music video for the song is being directed by Peter Jackson, known for directing the Lord of the Rings and The Hobbit series. Jackson also directed the eight-hour Beatles documentary, Get Back, in 2021. The film utilized AI technology to dissect recordings of songs from the band's last two albums, Abbey Road and Let It Be.
The upcoming video will showcase never-before-seen footage of the band, gifted to Jackson by Olivia Harrison, Sean Lennon, and Pete Best – the original drummer who departed in 1962. According to Jackson, Best contributed "a few precious seconds" of the Beatles performing in their iconic leather suits, making it the earliest known film of the band that has never been released before.
A behind-the-scenes video lasting 12 minutes for the latest track, Now and Then – The Last Beatles Song, is accessible on YouTube. Physical copies of Now and Then (on 12-inch and seven-inch vinyl, cassette, and CD) are up for pre-order prior to its release on Friday. Additionally, updated and remixed editions of the collections 1962-1966 and 1967-1970 (also known as the Red and Blue albums) will be available on November 10th.
Source: theguardian.com