Lagos is a pulsing mass of infectious energy. Densely packed houses stretch to the horizon below a visible halo of pollution. The streets are busy at all hours, with people eating, drinking, talking, getting haircuts and buying and selling anything and everything. Nigeria's biggest city is complex, diverse and unequal, but all over it, the same music vibrates: at any hour, the world-conquering sound of Afrobeats pours out of cars, bars, windows and parks.
Located in the northern suburb of Ikeja, hidden among warehouses and factories, lies the New Afrika Shrine – the birthplace of that iconic sound. This vast auditorium, characterized by a corrugated metal roof and walls that have faded over time due to humidity, stands as a reincarnation of Fela Kuti's musical haven. His pioneering Afrobeat style, which featured the intricate drumming of Tony Allen, paved the way for the popular Afrobeats sound of today. Despite his passing in 1997, Kuti's legacy and impact are celebrated through Felabration – an annual week-long festival showcasing music, art, and political discourse.
The Shrine has invited Ezra Collective, an exhilarating band from Britain, to perform at this year's festival. For the band's leader and drummer, Femi Koleoso, it feels more like a sacred journey than a typical concert. Koleoso arrives at the venue at 2pm, displaying a mix of excitement and exhaustion. "I was working with some local musicians in the studio last night, so I didn't get much sleep," he explains. Despite the late night, Koleoso was still energetically dancing to Made Kuti, grandson of Fela, at 1am. It was clear that he was determined to make the most of their trip.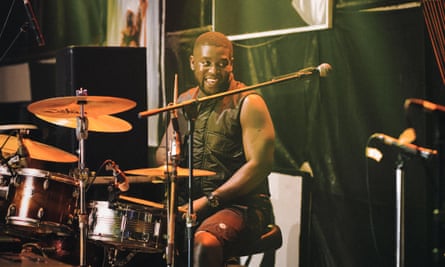 The group of five musicians recently received the Mercury prize for their album "Where I'm Meant to Be," marking a new high for the thriving UK jazz scene. Koleoso expresses his excitement for this achievement and acknowledges the organic process that led to it. However, he remains humble and recognizes that there is still more to accomplish. The quintet has also been scheduled to perform at the prestigious Royal Albert Hall in November, a significant milestone as they will be the first jazz act to transition from the smaller 200-capacity Elgar Room to selling out the main auditorium.
Despite being sleep deprived, Koleoso radiates excitement. He gestures around the nearly empty Shrine, where the remnants of the previous night's event are still being cleaned up, and declares, "This moment is even more significant than winning the Mercury prize. I never intentionally set out to write something to win an award, but I have always had the goal of performing at the Shrine with my brothers."
The tenor saxophonist for the band, James Mollison, shares the sentiment, stating that their first performance in Africa was a great privilege and honor. He has been listening to Fela's music for a long time and it holds a special place in his heart, so being able to play in Lagos feels surreal.
Koleoso was determined to secure the booking and he succeeded. He recalls, "When I came here in December of last year, I spent a lot of time in this building asking, 'How can I bring my boys here? Money and flights don't matter to me – just tell me how to get on that stage.' And I did it." He becomes visibly emotional and adds, "I wouldn't be surprised if I shed tears when I'm up there tonight because it's such a special feeling. This is who I am in a venue, expressed through music. It means so much to me. I can't find the right words to describe it."
To comprehend his feelings, we must revisit the time when he first began playing with drumsticks. "When I was three or four years old, my Nigerian parents gave me a toy drum set. It quickly became my favorite possession. Additionally, my dad would play Fela Kuti's music in the car, which sparked my love for music. The combination of these two experiences solidified music as my passion."
The earliest recordings from Ezra Collective show a strong love for Kuti's music. The band, which includes keyboardist Joe Armon-Jones, trumpeter Ife Ogunjobi, and bassist TJ Koleoso (brother of drummer Femi Koleoso), was formed in 2012 at the Tomorrow's Warriors youth club by renowned British jazz musician Gary Crosby. Koleoso explains, "I wanted to combine my passion for Afrobeat and Fela Kuti with the bebop jazz I was learning. That was the foundation of Ezra Collective." Those who attended their early performances would have heard them play Kuti's songs "Zombie" and "Colonial Mentality." Koleoso later had the opportunity to learn from Tony Allen, who passed away in 2020. "Zombie wouldn't be the same without Uncle Tony," Koleoso fondly recalls. "He taught me to relax, to let the music speak for itself, and to use my limited abilities with strength."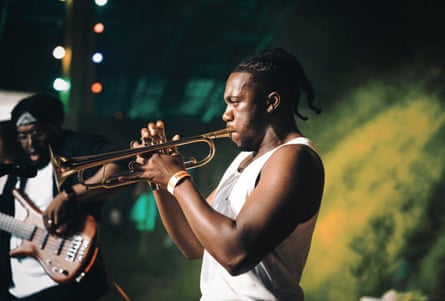 After consistently honing their skills through extensive practice sessions of jazz standards and Fela Kuti tracks, the band has recently incorporated elements of hip-hop, salsa, dub, and reggae into their music, resulting in a contemporary, impactful, and distinctively British style. Koleoso remarks on the diverse cultural influences found in London, stating that jazz musicians are adept at embracing and incorporating them into their music. Mollison echoes this sentiment, emphasizing that their surroundings have inspired them to include a range of sounds in their music.
Ezra Collective's music not only showcases the diverse musical landscape of London, but also sheds light on the challenges and hardships present in the city. Fela Kuti's music was deeply rooted in political activism, addressing issues such as colonialism, police violence, poverty, and oppression. Koleoso sees Ezra Collective as a platform to bring attention to similar issues, but with a unique approach. He explains that he will never use phrases like "Vote for this", "I don't like that", or "Campaign for this" when discussing these topics, instead opting for a different language.
Koleoso believes that the best solution is for individuals to do their part in helping those in need. Living in north London, he witnesses poverty on a daily basis. Working at a youth club connected to a food bank, he hears from kids about the struggles they face in dilapidated schools and the heartbreaking issue of youth violence. He does not believe that simply shouting for political change is the answer. Instead, he suggests that the solution lies in taking action and finding ways to address the issues at hand.
During his acceptance speech for the Mercury prize, Koleoso expressed his strong belief in the value of youth clubs for the success of his band. He is now dedicated to providing similar support, stating, "After all the excitement of the Mercury, I will be assisting at assemblies and taking kids to play paintball at the youth club. It's important to consider how we can help others." Koleoso also recognizes the power of his music to bring about positive change. He explains, "A powerful bassline and drumbeat can unite everyone and lead to progress. Just imagine if the entire world listened to Fela Kuti's Zombie – they would find common ground and agree on things they never thought possible." As he looks around the Shrine, he sees the potential for music to bring people together and inspire change.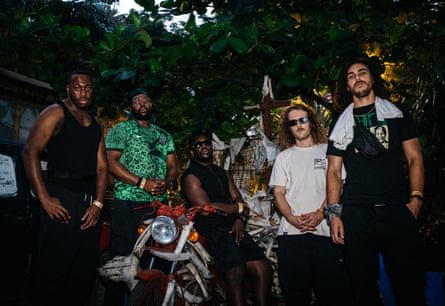 The exact time of the band's performance is uncertain. According to Joe Armon-Jones, the band's talented keyboardist, he has been given conflicting times of 8pm and 1am. Eventually, they begin their show just after 9:30pm, with the audience sitting and unsure of what a British band at the Shrine will deliver.
However, as soon as Koleoso begins playing the first beat of Welcome to My World, accompanied by the synchronized horns of Mollison and Ogunjobi, the crowd becomes more engaged. When TJ adds in a remarkably groovy bassline and Armon-Jones joins in with lively keyboard melodies, attendees start abandoning their seats and making their way to the front of the stage.
Femi Kuti, the talented son of Fela and a skilled trumpeter, surprises the crowd during No Confusion to cheers from both the audience and the band. They end their performance with a rendition of Fela's Water No Get Enemy, impressing the Afrobeat enthusiasts in the audience and dispelling any doubts with the help of some marijuana smoke. Koleoso remarks, "It's amazing how those who once picked up a guitar to imitate Blur are now picking up a trumpet to emulate Ezra."
Source: theguardian.com