'D
During the Covid pandemic, Desmond Child recalls with nostalgia, the entire city of Chicago united by opening their windows simultaneously and singing "Livin' on a Prayer." The experienced songwriter beams with pride, stating that it brought them hope and a sense of community. Jon Bon Jovi often reminds him that their collaboration resulted in more than just a song, but something truly exceptional. This special creation has now reached over a billion streams on Spotify.
Child has also collaborated with Bon Jovi on hits such as Bad Medicine and You Give Love a Bad Name. He also co-wrote Dude (Looks Like a Lady) with Aerosmith, Poison with Alice Cooper, and even Livin' la Vida Loca for Ricky Martin, which was later referenced in Sisqó's Thong Song. In addition, he has worked with other big names in the music industry such as Meat Loaf, Cher, Barbra Streisand, and Katy Perry. With 80 Billboard hits spanning five decades and over 500 million sales, Child is a successful hitmaker. However, he humbly admits that out of the 3,500 songs he has written, half of them were not up to par. Nonetheless, he strives to complete every song he writes and is proud that no one has ever asked for their money back.
Child, an energetic and stylish 69-year-old, resides in Nashville with his spouse Curtis. He firmly believes that there is no secret formula for creating hit songs that resonate worldwide. He explains that his colleague and good friend, Diane Warren, has a talent for writing songs that feel like personal confessions. She then gives them to artists like Toni Braxton or Céline Dion to perform. In contrast, Child takes a different approach by tailoring the songs to fit the artist like a well-fitted suit. He makes it a point to meet with them beforehand and takes detailed notes on everything they say. By asking the right questions, he is able to capture their story and emotions, sometimes even bringing them to tears. He believes that certain songs are meant for specific artists and cannot imagine anyone else performing them. For example, only Aerosmith could do justice to "Dude (Looks Like a Lady)" and only Joan Jett could truly embody "I Hate Myself for Loving You." It all comes down to being true to who they are as individuals.
Whether it's a mathematical equation or not, it's clear that he holds trademarks, particularly for his titles. He shares, while Curtis serves us coffee and pastries in this luxurious London hotel, "I quickly realized that art thrives on the contrast between opposing forces. So titles like 'So You Give Love a Bad Name,' 'I Hate Myself for Loving You,' and 'Dude (Looks Like a Lady)' have a magnetic pull that draws people in." Another valuable lesson he learned from Bob Crewe, co-writer of "Lady Marmalade" and his mentor in the 1970s, is the importance of clean rhymes. He explains, "When crafting lyrics, it's crucial that rhymes are as precise as possible. For example, you can't rhyme 'name' with 'games.' It must be 'game.' This way, when the audience sings along in a stadium, they can anticipate the next rhyme. And when it's clean and memorable, they'll be singing along by the second chorus."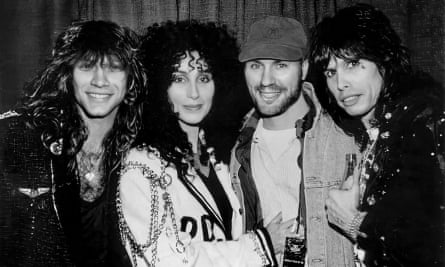 The most recent endeavor of Child is not a musical composition, but rather a literary work: a captivating autobiography filled with the extraordinary tales behind his songs. Titled Livin' on a Prayer: Big Songs Big Life, it includes his interactions with celebrities like Mickey Rourke and Michael Jackson, as well as his experiences with homophobia in the music industry and memorable incidents involving his family, such as his mother being shot and his aunt having a relationship with Fidel Castro. "My co-author, David Ritz, jokingly told me that the book would be 1,000 pages long," he chuckles.
John Charles Barrett, who was born in Gainesville, Florida, spent his early years in Cuba during a time of revolution. His mother, Elena Casals, was from Cuba and they lived comfortably in Havana. Barrett describes his mother as a "bohemian it girl". However, after they moved to Miami, he grew up in poverty in the Liberty projects. Casals, who aspired to be a songwriter, had an affair and left her American husband to raise her three children. She did not reveal the identity of Barrett's biological father, a Hungarian man, until he turned 18.
The mother of the child struggled to accept his sexuality, and when he was only 13 years old, he was administered testosterone injections in an effort to make him appear more masculine. Despite this, it took her many years to come to terms with the fact that Curtis was his husband. However, the child is grateful for the sacrifices she made to provide for them, such as working odd jobs like selling mops or wigs and flipping burgers. She even had multiple business cards with different names to make ends meet.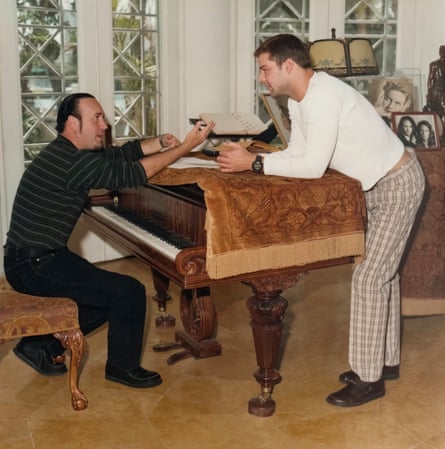 Child's life took a different direction compared to his friends and cousins who ended up in prison. It all changed when he attended a Janis Joplin performance at a racetrack. Despite her drunken state and needing to be carried off, Child was captivated by her magic and decided he wanted to be a singer. With nothing to lose, he transformed himself and pursued his dream.
In 1975, he changed his name and created the group Desmond Child & Rouge with other Latino singers Maria Vidal, Myriam Valle, and Diana Grasselli. They appeared on Saturday Night Live and gained moderate success with their funky and sophisticated pop music. However, after performing at Trax, a club in New York's Greenwich Village, they caught the attention of George Harrison and Paul Stanley from Kiss. They were invited to collaborate and their song "I Was Made for Loving You" became one of Child's biggest hits. This led him to realize his talent for collaborating and helping others become successful musicians.
Bon Jovi was a Kiss opening act, struggling to find success. In order to create a hit, Child merged his song "If You Were a Woman (And I Was a Man)", originally written for Bonnie Tyler, with a Jon Bon Jovi track called "Shot Through the Heart". The result was "You Give Love a Bad Name". Child recalls, "When I saw Jon's infectious smile, I knew we had something special and we never looked back."
The song Livin' on a Prayer was written by the band on a Formica table in a dark basement. According to Child, they wanted to create a song that would resonate with the working class, and he used elements from his own life for inspiration. The character of Gina, who works at the diner all day, is based on Child's early girlfriend, Maria Vidal, who went by the name Gina Velvet while waitressing. The character of Tommy, who has his guitar in hock, is actually based on Child himself. Originally, the song mentioned Johnny instead of Tommy, but Jon Bon Jovi couldn't sing it because Johnny is his name. So, the lyrics were changed to Tommy and the song became a hit, with the struggling couple "halfway there, livin' on a prayer."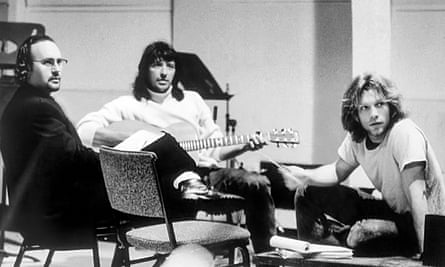 According to the child, the popular song "Dude (Looks Like a Lady)" by Aerosmith in 1987 can be seen as an early anthem for the transgender community. The lyrics, "Never judge a book by the cover or who you're gonna love by your lover," were a way to break societal norms during a conservative era. However, the current narrative of trans individuals being a threat to children is similar to the scapegoating of Jewish people. This fear is irrational and only serves to incite hatred towards trans individuals. People are then drawn to political candidates who share these hateful views and support them through their votes.
Although he was a gay man in a predominantly masculine industry, Child claims he did not often encounter discrimination from fellow artists. He explains that while they were occupied with their own pursuits, he would take care of tasks such as chatting with their spouses and redecorating their homes. He compares himself to a palace eunuch, not seen as a threat to the king.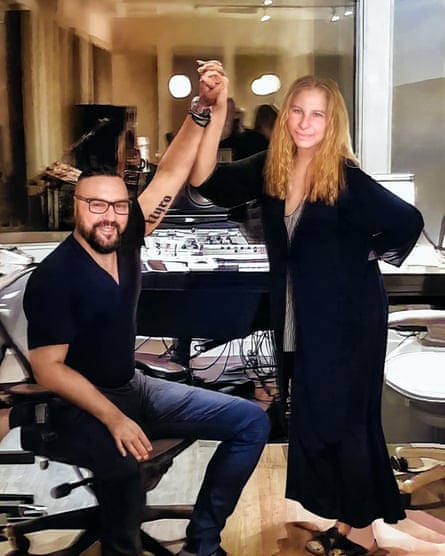 The group of executives, who were all male and had been friends since their college days, presented a unique challenge. According to the speaker, there was a barrier preventing advancement in production, but this changed 25 years ago with the arrival of Linda Perry, a successful producer and lead singer of the band 4 Non Blondes. The speaker recalls that he was the only gay man in this male-dominated industry and was never given the opportunity to produce a heterosexual metal band. However, as their respective genres began to fade, the executives became more open to allowing him to produce music of his choice.
Some of the partnerships were not successful. For instance, during a writing session, Rod Stewart left abruptly and when he went to Michael Jackson's studio, he found it filled with stuffed animals but no sign of the singer. "Eventually, I called his house and was told that Mr. Jackson was very sick. It was clearly him on the phone." Child then went on to collaborate with Ricky Martin, incorporating his Latin background for the hit song "Livin' la Vida Loca." "That song was even honored in the National Recording Registry, alongside classics like 'Moon River.' As a poor gay Latino, can you believe it?" Child said proudly.
The composer still struggles with his feelings towards his mother. Despite her having only one successful song in Cuba, she would taunt him, claiming he could never match her talent. However, after her passing in 2012, he stumbled upon numerous poems she had written and was amazed by her brilliance. In her memory, he helped create the Latin Songwriters Hall of Fame.
He plans to make a film about his life. He wants to inspire children to chase their dreams, as he sips his coffee. He acknowledges that only one person can be the star at the top of the Christmas tree, but it's still an accomplishment to be on the tree at all. In 2022, a group of famous musicians gathered at the Pantheon in Greece to perform Child's songs in a grand and impressive event that he hopes to bring to Britain. He expresses his excitement, saying that for one night, he felt like a true star.
Source: theguardian.com