A
At only 23 years old, Rema is often referred to as the "golden child" of Nigeria's music scene. He has traveled from his hometown of Benin City to places like Curaçao, Tønsberg in Norway, and three cities in India. In fact, he made history as the first Nigerian artist to sell out a tour in India. His single "Calm Down" released in 2022 has become one of the biggest hits from an African artist, with a combined 1.6 billion streams on Spotify for both the original and the remix featuring Selena Gomez. Rema's rapid rise to global fame has put him on equal footing with established Nigerian artists such as Wizkid, Burna Boy, and Davido, rather than being seen as their successor.
Despite his commercial success, this fully booked performance at London's O2 demonstrates an artist who is unafraid to take chances and showcase his artistry beyond just Afrobeats. With a bold rockstar entrance, Rema emerges onto the stage riding a horse on jagged rocks, surrounded by red fog and imagery of nuclear explosions, as he belts out his new track DND with a raw and intense voice. As he sings about not conforming to others' expectations, it becomes clear that this sentiment will ring true throughout the show.
Rewritten: Rema's music has undergone a surprising transformation, blending rock'n'roll and trap influences. He occasionally incorporates metal-style screams into his vocals, while his band uses electric guitars and saxophones to add a movie-like tension. In his earlier songs "Fame" and "Why," the trap and rock elements are emphasized even more, and Rema's powerful and confident delivery is accompanied by his energetic stage presence. He adds a unique gothic touch to his performances by riding a bat in the sky, a nod to the bats found in his hometown of Benin City.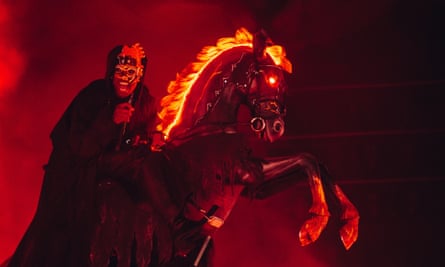 The question at hand is whether prioritizing artistic passion is beneficial for the audience. Rema is undeniably a talented performer – his energetic and passionate performances of songs like "Lady" and "Beamer" are proof of this. However, the overall show lacks cohesiveness and seems to overshadow him; his persona as a seductive heartthrob who loves "nyash" clashes with his masked, misunderstood emo-zombie alter ego. The breaks between transitions are also too long, especially considering the show started late, and there is an uncomfortable contrast between Rema's enthusiasm and the occasional stillness and confusion of the audience. While he wants to get the crowd at the O2 jumping, popular songs like "Dumebi," "Woman," "Bounce," and "Calm Down" are not performed until the end, past the 11pm curfew.
Rema's star quality hasn't been left in question, and he delivers the show that he probably wanted – but with more restraint he would have met fans in the middle.
Source: theguardian.com