S
When the name Jackie DeShannon is mentioned, most people immediately think of her two popular songs "What the World Needs Now is Love" and "Put a Little Love in Your Heart." However, DeShannon wants people to know that there is more to her career than just those two hits.
There is a vast and diverse musical history connected to DeShannon. As a singer and songwriter, she has significant ties to influential figures in music such as Elvis Presley, the Beatles, Bob Dylan, Burt Bacharach, Jimmy Page, and the Wrecking Crew. Her musical repertoire encompasses a wide range of genres, from soul to folk-rock to standards, showcased in numerous solo albums and covers of her own compositions. But there is more to DeShannon's narrative, including a crucial aspect that was previously unknown even to her most devoted admirers – until now.
Sharon Lee Myers, who later adopted the stage name DeShannon, was born in Hazel, Kentucky. She began her career as a young child singing country songs with great skill and enthusiasm. Her talent caught the attention of a regional radio show, and at just 13 years old in 1954, she was given her own show. Two years later, her mother secretly recorded these performances at home. After years of being hidden away, these recordings are now being released under the title The Sherry Lee Show. On these long-awaited recordings, DeShannon covers popular songs by country icons like Patsy Cline, George Jones, and Don Fleming. When asked about her thoughts on hearing her younger self, the now 82-year-old exclaimed, "I love her! I hear an innocence," she said over the phone from her Beverly Hills residence. "But I also hear a determined young girl with a powerful dream."
A perceptive audience member will also detect subtlety. At the age of 15, DeShannon possessed an uncanny ability to capture the emotion and narrative in the country songs she sang. This may have been influenced by her upbringing in a musical family spanning multiple generations. "On weekends, everyone would gather on my grandmother's porch with their fiddles and guitars to sing and play," DeShannon recalled.
The singer's father and uncle formed a band based on the Delmore Brothers. The style was a mix of country and blues, with influences from artists like Jimmy Reed and Bobby Blue Bland.
Her radio recordings demonstrate her admiration for R&B and rockabilly, as she covers songs that were popularized by Fats Domino and Elvis Presley. These recordings were secretly made by her mother, resulting in a raw and primitive sound. DeShannon expressed pride in this, stating that there is an abundance of polished music nowadays and a need for more rebelliousness.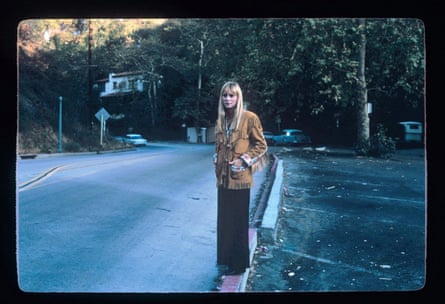 DeShannon was initially drawn to Elvis's early records because of their raw quality. As she entered her 20s, she not only looked up to the singer, but also became acquainted with him. While there have been rumors of a romantic relationship between the two, DeShannon finds this amusing. She clarifies that they were simply friends and she would often visit his house to sing gospel music with the Jordanaires. She recalls Elvis as being polite and humble during these visits.
In 1960, singer Jackie DeShannon was advised by rocker Eddie Cochran to relocate to Los Angeles in order to further her career. During this period, she adopted the gender-neutral stage name Jackie DeShannon and began collaborating with songwriter Sharon Sheeley. According to the singer, they worked together on the lyrics, but she always came up with the melodies first, starting with a catchy lick or hook.
The duo secured a contract with Liberty Records, which presented their songs to any artists recording at the time. Their initial success came with Brenda Lee's hits "Heart in Hand," reaching the Top 20, and "Dum Dum," which broke into the top five. DeShannon was later signed as a solo artist at Liberty, but she faced the barriers imposed on female musicians during that era. Despite being able to write and record her own music, a rare opportunity for women at the time, she also had a specific vision for the production and arrangement of her songs. However, this idea was not accepted. DeShannon recalled, "In those days, they believed that women couldn't possibly know how to work in a studio. It was unthinkable." She faced resistance when suggesting alternative approaches, and was often labeled as "difficult."
DeShannon's journey with Liberty began when she released her debut album in 1963, which was self-titled. During this project, she had a bold idea that was influenced by a recent event she attended. "I went to Bob Dylan's first concert at Town Hall," she remembered. "In the first half, he sang traditional blues songs like 'See That My Grave Is Kept Clean.' I thought it was good, but nothing special. However, for the second half, he came back with songs like 'Don't Think Twice, It's Alright,' 'With God on Our Side,' and 'The Times They Are A-Changin'. I was blown away."
As a result, she expressed her desire to create an entire album featuring songs by Dylan, which would have been a groundbreaking statement at the time. However, Liberty was hesitant and only allowed her to record a few, including "Don't Think Twice," a song she believed should be released as a single. Liberty disagreed and soon after, Peter Paul and Mary's version of the song became a chart-topping hit. On DeShannon's second album in 1964, she wrote and recorded "When You Walk in the Room," which has since become a classic. Although her version did not perform well on the charts, a cover by the Searchers became a global success and inspired many other artists to cover the song. The folk-rock sound in the music DeShannon wrote for the song was later credited solely to The Byrds, who covered another one of her songs, "Don't Doubt Yourself Babe," on their debut album in 1965. DeShannon stated, "I don't want to be the one to say 'I should get credit.' It just happened the way it did."
However, this continued to occur, partially due to the way Liberty Records perceived her. DeShannon states that she was unaware that the label saw her primarily as a songwriter rather than promoting her as a singer. She expressed her disappointment with the situation.
During the same period, DeShannon had some positive experiences. In 1964, she was included in a group of performers who opened for the Beatles on their inaugural American tour. This was a double-edged sword for some of the other artists on the lineup due to the overwhelming popularity of the Beatles. DeShannon remembers, "Some of them were quite upset that the audience wasn't cheering for them." However, she took a lighthearted approach and joked, "Well, are you selling tickets?" Despite the crowd's constant chants for the Beatles, DeShannon powered through and had a great time.
The following year, she achieved her first major success. Dionne Warwick had been receiving acclaim for her songs written by Burt Bacharach and Hal David. However, when they presented her with "What the World Needs Now Is Love," she declined it for being too preachy. DeShannon, on the other hand, found the song to be fantastic. She was drawn to its church-inspired melody and beautiful lyrics.
Shortly after, DeShannon established another significant association. While in England for a recording session, she required a guitarist. The producers recommended Jimmy Page, an art student who also did session work. "I had been fortunate to work with exceptional guitarists like James Burton and Glen Campbell on my previous sessions," said the vocalist. "I told the producer: 'He has to be incredibly skilled.' When Jimmy Page played my song for me, he sounded like Segovia. I recognized his genius right away."
The two had a mutual attraction and dated for a while. It has been rumored that he wrote the longing song Tangerine for her. DeShannon stated that she cannot confirm if this is true, but if it is, she feels honored.
At that point, she had already written a significant portion of the songs on her albums, preceding popular female singer-songwriters such as Laura Nyro, Janis Ian, Joni Mitchell, and Carole King (who were also writing but had not yet released their own music). Unfortunately, DeShannon often does not receive enough recognition for this accomplishment. "You need a strong marketing and publicity strategy for that," she explained. "I didn't have that."
In 1968, her influence had grown to the point where she had more control over what is possibly her most significant record, Laurel Canyon. Although the songs she penned for the album celebrate the famous music scene in Los Angeles during that period, the soulful sound she produced was reminiscent of Dusty in Memphis. DeShannon expressed, "The Laurel Canyon album was my pride and joy. It was a natural creation that captured a specific moment and location."
Although the album did not reach the charts, the following year her track "Put a Little Love in Your Heart" became a top five hit. In 1975, DeShannon collaborated on and recorded a song (Bette Davis Eyes) that received little attention at the time. However, six years later, a version by Kim Carnes reached number one on charts around the world. DeShannon's original version has a unique rhythm that differs greatly from Carnes' rendition. "Can you guess why?" DeShannon quipped with a sarcastic laugh. "I had no control over that situation. My demo was more of a rock'n'roll sound, but the producer turned it into a shuffle."
Despite experiencing these difficulties, DeShannon made it clear in our interview that she holds no resentment. She stated, "I am content with the accomplishments I have achieved."
She is delighted that her entire career is now receiving more recognition. In celebration of her new album, Sherry Lee will be recognized by the Country Music Hall of Fame in Nashville this April. Additionally, there will be an album released next year featuring previously unheard demos from 1961 and '62, with a focus on soul music. These demos will include both original songs and covers of early works by Ray Charles. DeShannon expressed her joy at finally having all of this material made available.
She is thrilled that the traditional power balance based on gender in the music industry has shifted, with female artists such as Taylor Swift and Beyoncé now leading as the top stars. She recalls how challenging it was for women in the past and is overjoyed by the progress being made now.
The Sheryl Lee Show is out now
Source: theguardian.com