W
When Mabe Fratti reached the age of 18, she made the decision to mark the occasion by scaling a volcano in her home country of Guatemala. Despite having previously climbed smaller volcanoes, Fratti, now 31, wanted to challenge herself with a bigger one. However, during the climb, Fratti and her friends were robbed. Reflecting on the experience, Fratti came to the realization that she may not be much of a hiker after all. Instead, she prefers to spend time playing in open fields or exploring the forests.
The disclosure hinted at a similar change in Fratti's strategy for playing the cello. Even as a young person borrowing a shared instrument covered in stickers to show the correct finger placements, she had resisted the traditional approach and longed for an experimental one. However, her goal was to produce a groundbreaking masterpiece. But now, she explains, "instead of seeking out the flawless and remarkable piece that will be remembered in history, I have shifted my focus to a more exploratory path. What would happen if I wanted to create something funky? Or an album featuring only cello and vocal automation? A heavily distorted cello album with intense vocals? These are the types of things I want to explore more."
Fratti's unconventional ingenuity has established her as a highly acclaimed and original voice in the realm of experimental music. Through three individual albums showcasing her skills in electro-acoustic composition, she has demonstrated a remarkable ability to fully immerse herself in her instrument. 2020's Pies Sobre la Tierra was a visceral and resonant experience, while 2021's Será Que Ahora Podremos Entendernos was sinuous and restless. In her most recent work, the unsettling Se Ve Desde Aquí, Fratti amplifies the fraying of her bow against the strings, earning praise from Oneohtrix Point Never as "mind-blowing." Each album continues to refine Fratti's deconstructed and beautifully disquieting songwriting, woven together by her wise, Spanish-language vocals. Renowned US drummer Chris Corsano, known for his collaborations with artists such as Björk, Bill Orcutt, and Kim Gordon, has recently joined forces with Fratti and praises her ability to seamlessly transition from composed material to improvisation. He describes her music as an endless exploration of possibilities, with the potential to venture into any and all directions simultaneously.
The adventurous cellist has proven to be a valuable collaborator, with two recent projects being released. Along with her partner Hector Tosta, also known as I la Católica, they released the album Vidrio under the name Titanic last month. The album is a blend of ecstatic and tense chamber-pop cabaret, similar to the styles of Julia Holter and Meredith Monk. Following this release, she contributed to the dreamy but distorted A Time to Love, a Time to Die by Amor Muere, an improvisational quartet based in her current home of Mexico City.
Crucially to collaboration, Fratti also seems like a great hang: unguarded and exuberant, all long tangled hair and armloads of tattoos. Over 90 minutes on Zoom, she careens her phone around the spartan home she shares with Tosta, darting into the kitchen where he's making tacos to ask for his thoughts: "Pescado!" she calls (when he shuts his eyes, she says lovingly, he looks like a fish). Both her new projects were enriching trust falls of different kinds. The music for Vidrio was all composed by Tosta, whereas Amor Muere, comprising Fratti, Camille Mandoki, Gibrana Cervantes and Concepción Huerta, is a democratic outfit. "Amor Muere starts from like a playground setting," she says. "It helps me to mould and listen a lot and accept other people's creativity. With Titanic, Hector studied composition so he's way more structured. If you study composition, you imagine the future in a more concrete way."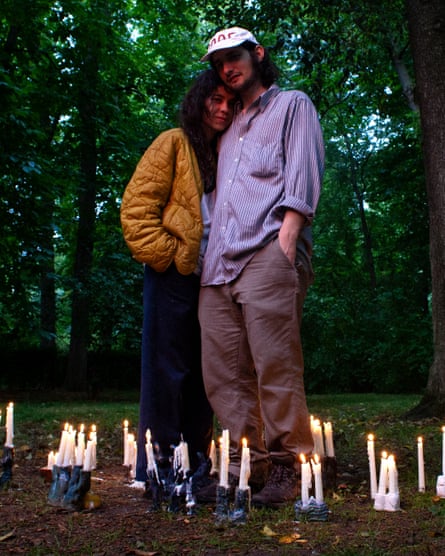 Both recordings caused Fratti to question her own abilities. Recording Vidrio in a studio posed a challenge as she struggled to convey how she wanted her voice and cello to sound to the engineer. She expressed, "I cannot put my thoughts in your head!" On the other hand, when reviewing takes for Amor Muere, she became too caught up in her own thoughts. She states, "It was also about letting go and trusting the judgement of the people I already trust. I think I was being repetitive!" When working alone, she feels "extremely free" but in other situations, she may doubt her own perspective. However, Fratti sees this doubt as something exciting rather than negative.
Fratti's artistic journey has been a continuous effort to break away from rigid norms. Growing up in Guatemala during the 2000s, she was surrounded by gated communities built to protect against gang violence and gun crime, but she refused to succumb to the pervasive sense of insecurity. She admits that her pursuit of music may have caused some concern for her mother, but she was determined to connect with other musicians and form bands. Despite the lack of a well-established music industry in Guatemala, which Fratti believes is largely supported by beer companies, she found ways to explore experimental music. Her contemporary music group delved into unconventional techniques beyond what she learned in school, and she also found inspiration from driving with friends and from a metalhead bassist in an early band who introduced her to Sunn O))), Scott Walker, and Cocteau Twins. The cello she still plays today was a gift for graduating high school, although it may have a unique sound due to being broken when she received it.
She initially pursued journalism as a backup plan, but left before her final year to relocate to Antigua Guatemala. However, the city presented its own challenges. Fratti explains, "In a touristy place, there's a constant pressure to conform to a certain aesthetic. It can be limiting." In 2015, she was invited by the Goethe-Institut to participate in a residency program in Mexico City. It was only her second time performing music outside of Guatemala, but it proved to be a pivotal experience. Collaborating with established musicians like Gudrun Gut and Julian Bonequi was intimidating at first, but Fratti found them to be welcoming. Bonequi introduced her to the music of Okkyung Lee, a Korean cellist who she became obsessed with. This led to her being invited to local improv shows, which she found to be a vibrant and welcoming community. A year later, Fratti made the decision to permanently move to Mexico City. This decision opened up numerous opportunities for her as she became more connected to the city's music scene. She reflects, "It was like a domino effect – I met more musicians, saw more shows, and felt like it was all meant to be."
Fratti's musical abilities thrived. She was inspired by a performance by drummer Gibrán Androide and asked for his assistance in improving her improvisation skills, which allowed her to express the "chaos" of the city through her music. The British indie label Tin Angel offered to release her music, and with a strong community of musicians around her, including at the Jazzorca venue run by experimental jazz musician Germán Bringas, Fratti's songs and lyrics explored themes of uncertainty and miscommunication. As she delved deeper into certain topics or systems, she became more aware of the possibility of being wrong. In her song "Anónima," accompanied by intense cello and controlled chaos, she sings: "Si no se quien puedo ser pues soy mi presentimiento" (If I don't know who I can be, I'm going to be my intuition). I suggest that embracing instinct and ambiguity can be a counter to the polarized discourse of today. Fratti brings us into the kitchen to ask Tosta, who wrote the lyrics. He explains that a few years ago, they read Byung-Chul Han's book The Transparency Society, which discusses the pressure to take a stance and to firmly commit to it. Tosta adds that sometimes it's about following your instincts and embracing the strangeness of everything.
Fratti advises trusting your intuition.
Tosta acknowledges that certain risks may arise and can be beneficial.
Giving up control over creativity and allowing for improvisation and collaboration is a positive solution for a society where extreme viewpoints prevail. Fratti, who worked on both Titanic and Amor Muere, recognizes this element in both projects – an ongoing dialogue about what each person wants to contribute and express. This approach is satisfying and demonstrates a conscious effort to value the voices of all collaborators equally, without creating a hierarchy and acknowledging the diverse perspectives in music.
Fratti is a well-known musician in a close-knit group of artists. Her music has led her to perform at various events and festivals in Europe, including the prestigious Royal Albert Hall where she was the opening act for British songwriter Ben Howard. According to Howard, Fratti's performances are captivating and her songs are like celestial bodies, with a central theme surrounded by ever-changing layers of sound.
The city of Mexico is also experiencing changes, with a 3% increase in population between 2019 and 2023 and a 70% rise in Americans applying for residency visas. This growth has also resulted in higher rent prices and the recent opening of a Soho House branch. Fratti, as an outsider, is hesitant to comment on the situation but does express a desire to belong. However, her friend who lives near Soho House has noticed an increase in English speakers, creating a sense of isolation within the community. Fratti does not want to be a part of this isolation.
According to Fratti, the increased attention on the artist and her city has not had any impact on her local music scene. The community remains relaxed and focused on collaboration, with a natural flow of working together. Tosta has completed her next album, which she describes as "groovy" and slightly reminiscent of progressive music, but not in the style of bands like Yes or Camel. She jokes that listeners might be surprised by the structure of the songs. She is already considering ideas for her next album, such as a stripped-down record featuring only her voice, cello, and resonators, or a heavier, distorted sound as she mentioned previously. The possibilities are endless.
Source: theguardian.com