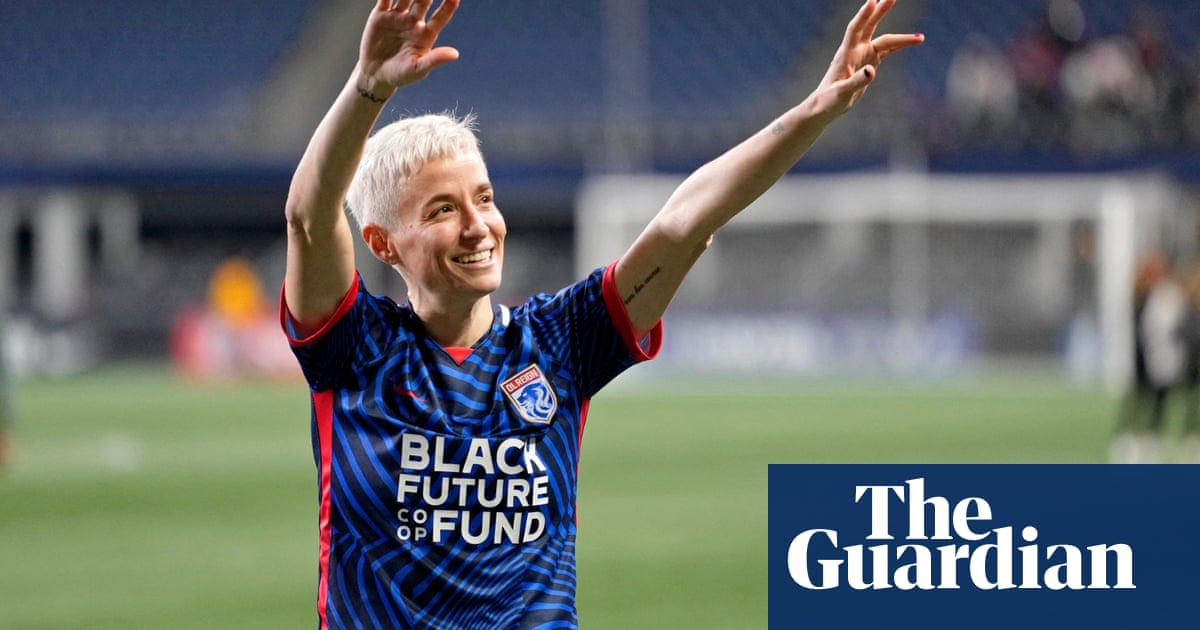 On Saturday, Megan Rapinoe will wear her boots for the final time in her career when she plays at Snapdragon Stadium for the NWSL final.
If OL Reign, the team she has been a part of for 11 seasons, is able to secure the championship in San Diego, she will finally have won the one major award that has eluded her.
Earlier this year, the 38-year-old stated her plans to retire. However, her final appearance at the international level did not go as expected. The US team was eliminated from the Women's World Cup in the last-16 round, marking their worst finish in a tournament that Rapinoe has previously won twice with her country. Despite this disappointment, the recognition for Rapinoe has been overwhelmingly positive, with the exception of some divided opinions in America. Most of the accolades have highlighted her impact off the field, where she has been a vocal supporter of LGBTQ+ rights, social justice, and equal pay in soccer.
Rapinoe has emphasized the same aspects herself. In October, before her last game at Lumen Field in Seattle, she stated to the media: "I am proud of my on-field accomplishments, but I am equally proud of the impact I have had off the field. My career has inspired and challenged others, and has allowed them to see themselves in a more complete manner."
Although advocacy has played a significant role in her career and will undoubtedly be a highlight of her induction into the US Soccer Hall of Fame, it is important to also consider Rapinoe's abilities on the field, when she has possession of the ball, facing opponents and with limited time remaining.
Is Rapinoe considered the best USWNT player ever based solely on skill? Most likely not: she did not have the same amount of playing time as Kristine Lilly, who earned 354 caps for the US in 23 years. She also did not score as many goals as Abby Wambach (184). Furthermore, she may not possess the technical prowess of players such as Mia Hamm, Carli Lloyd, or Rose Lavelle. One could argue that she is similar to David Beckham in terms of exceptional set-piece abilities and a talent for performing under pressure, but her fame may have overshadowed her skills at times.
That's not to say she wasn't an outstanding player. In many ways, Rapinoe the footballer mirrored Rapinoe the advocate: she was unflappable. The one aberration came in her final competitive game for the US, when she missed her spot-kick in the Americans' penalty shootout loss to Sweden. Other than that Rapinoe had a quality legendary athletes often exude: a confidence and drive to win that bordered on the obsessive. A confidence that seemed to give her the ability to will her team to victory.
There was no better demonstration of this than in the cross during extra time of the USWNT's 2011 World Cup quarter-final against Brazil. Despite being behind to As Canarinhas with little time left, Rapinoe sprinted down the left side and delivered a precise pass to Abby Wambach's head, resulting in the game being decided by penalties. The US eventually made it to the final, but ultimately lost to Japan. This was an impressive performance for Rapinoe in her first World Cup. Four years later, she once again played a crucial role in her team's efforts.
In the first game of the Americans against Australia, there were speculations that the Matildas would defeat the US. However, Rapinoe made a strong impression by scoring two goals and assisting Christen Press for another, leading to a 3-1 victory. These goals showcased her exceptional skills. In her first goal, Rapinoe successfully retrieved the ball, tricked numerous defenders while dribbling, and then scored a powerful shot into the top right corner. For her second goal, she charged forward from the left wing, an area where she often dominates, and curved a shot past the goalkeeper. This victory ultimately led the Americans to win the World Cup for the first time in a back-to-back fashion.
In 2019, the World Cup served as a defining moment for Rapinoe as she excelled under pressure both on and off the field. The team was embroiled in a contentious lawsuit regarding equal pay with their own federation, while Rapinoe found herself in a dispute with former US president Donald Trump. After expressing her opinions on the matter, Trump took to social media to criticize her, stating "Megan should win first before she talks!" And win she did: scoring six goals and ultimately leading her team to victory, Rapinoe was not only named the top scorer of the tournament, but also earned the title of best player in the 2019 World Cup.
The goals arrived just in time, as expected, and were executed with a sense of certainty. Many of these goals came from set plays, where Rapinoe consistently excelled. In the same year, she was honored with the Ballon d'Or Féminin, recognizing her as the top player in the world. She also earned a gold medal at the 2012 Olympics while representing the US, adding to her impressive record of 203 appearances, 63 goals, and 73 assists for the national team.
However, her influence on the National Women's Soccer League within the US transcends generations and is irreplaceable. It is a direct result of her success as an international superstar. Her rise to fame coincided with the development of the NWSL, which played a significant role in reviving women's professional soccer in the US. Despite a rocky beginning, the league has steadily grown thanks in part to her contributions.
The 11th season of NWSL has achieved record-breaking numbers in various metrics, including ticket sales, attendance, viewership, and investment. In 2015, when Rapinoe won her first World Cup, the league had an average of 5,000 fans per game. However, in 2023, that number has doubled to over 10,000. Recently, CBS Sports, ESPN, Prime Video, and Scripps Sports revealed a multi-year agreement worth $240 million to broadcast NWSL games on their platforms. This remarkable success can largely be credited to players like Rapinoe.
Rapinoe's significant impact on the team's growth was evident as her final home game of the regular season set a new record for attendance in the NWSL. The match, which took place in Seattle in October, drew a crowd of 34,130 supporters.
The final objective is now at hand. Rapinoe's contribution has led OL Reign to three Supporters Shield titles, given to the top-performing team in the regular season. However, they have not yet clinched a championship, which is awarded to the victor of the playoffs. Winning this redemptive trophy could potentially alleviate the heartbreaking memories from the recent World Cup.
On Saturday, Reign will face a strong challenge from their opponents, Gotham FC. Like Reign, Gotham FC is vying for their first NWSL title and will also be saying goodbye to their own retiring star, Ali Krieger. Krieger, who has won two World Cups alongside Rapinoe, will be bidding farewell.
Following a series of impressive accomplishments, supporters can anticipate one final performance.
Source: theguardian.com