A
Aston Villa has achieved victory in their past 11 matches at home in the Premier League. Being a fan of Villa is quite enjoyable at the moment, seeing the team make their best start in the league in 25 years. They have not experienced a loss at Villa Park since being defeated 4-2 by Arsenal in February, and even then it required two goals in the second half of injury time to secure the defeat. Under the leadership of Unai Emery, Villa Park has become a strong and impenetrable stronghold, and fans are thoroughly enjoying every moment.
There is excitement in the Midlands as European football has returned, making this season one to look forward to. Last year, when Steven Gerrard was let go, Villa was in 17th place. Under the guidance of Emery, who took over as manager, the team improved greatly and finished in seventh place. With 10 wins in their final 15 games, fans were hopeful for further improvement after a complete pre-season under the supervision of the Spanish manager. This hope has now turned into reality as Villa claimed a 4-1 victory against West Ham on Sunday, moving up to fifth place in the standings.
Participating in the Conference League may have been a tiring and distracting task this season, but Villa has handled European football well under Emery's leadership. The team has made significant investments in their roster over the past few years, steadily improving in various positions on the field. Yet, it was not until Emery's arrival one year ago that the club truly started to reap the benefits of their investments.
The transfer market saw Emery receive support from the owners this summer, however, Villa's success is not solely due to their new acquisitions. The manager has greatly improved the performances of the players who were already at the club during Gerrard's tenure. The recent signings have been guided by the experienced players, such as Ollie Watkins and Douglas Luiz, who were brought in under Dean Smith's management and have been standout performers this season.
Since Emery's appointment, Watkins has been the primary recipient of the positive effects. His goal and assist against West Ham during the recent weekend have made him the sole player in the Premier League to have both scored at least five goals and provided five assists this season. Only Liverpool's Mohamed Salah (11) has been involved in more goals. Emery made a slight change to Watkins' role as a striker when he became manager, instructing him to stay more central instead of drifting wide. This small adjustment has had a remarkable impact. Despite being in his fourth season in the Premier League, Watkins has scored 18 of his 45 career goals (40%) since Emery took charge at Aston Villa a year ago.
Luiz's recent performance indicates an improvement in his game. With two goals scored on Sunday, he has now scored in Villa's last six home league matches, surpassing a record previously held by Dwight Yorke in 1996. Since joining the team in 2019, Luiz has been a consistent player, but it was not until working with Emery that he truly reached his potential. Unlike other players who are limited to specific midfield roles, Luiz excels in all aspects of the game. When paired with the defensively-focused Boubacar Kamara, he becomes the perfect all-around midfielder in Emery's preferred 4-4-2 formation, capable of both protecting the defense and contributing to the attack.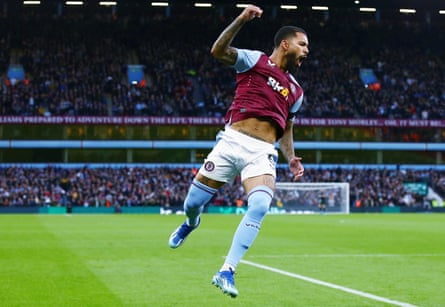 At the start of the season, Villa received a devastating blow when Tyrone Mings suffered an ACL injury. This was particularly disappointing as Emiliano Buendía had also recently suffered a similar injury. However, thanks to Emery's effective tactics, they were able to overcome these setbacks, something they may have struggled with in the past.
Pau Torres joined the team from Villarreal, where he previously played under Emery. Despite a slow beginning, he has now found his stride. Nicolò Zaniolo, another new addition, has also impressed with his consistent performances while filling in for Buendía. Emery has replaced a player who is currently unable to play due to an ACL injury with another who has previously suffered the same injury twice.
A few years ago, Villa did not have the ability to attract top players. However, with their current manager at the helm, their signings are not only strengthening the starting lineup but the entire team. This was evident in their fourth goal against West Ham on Sunday, where two substitutes, Youri Tielemans and Leon Bailey, worked together to score. The squad is filled with talent, creating healthy competition for starting positions. With their involvement in European competitions, even the bench players are getting significant playing time.
This is an exciting time for Villa. The recognised big six in the Premier League are looking shakier then ever, with Manchester United and Chelsea starting the season poorly. Villa have been presented with a chance to exploit the shortcomings of the established sides and they are taking it. "We are after seven teams," said Emery on Sunday. "Manchester City, Manchester United, Liverpool, Tottenham, Arsenal, Chelsea and Newcastle. We were not contenders to be in the top four in the beginning but, of course, we need to take our dreams."
Emery has set a goal for his players and instilled them with the belief to achieve it. This is a significant shift from Gerrard's leadership, which was characterized by negativity that drained the energy from the team. In a game against Chelsea last year, Gerrard stated, "They should easily beat us at Villa Park." As expected, Chelsea emerged victorious. Gerrard was dismissed the following week after another devastating loss, this time a 3-0 defeat against Fulham. In contrast, Villa has faced Chelsea twice under Emery's guidance and emerged victorious both times, with both matches taking place at Stamford Bridge. While confidence alone is not enough, it plays a crucial role when combined with a solid tactical strategy.
Upon his appointment, Emery conveyed to his team: "I will strive to raise the bar, set high goals, and demand excellence. I will not rest until we are better than we were yesterday. And I have no intention of wasting my time here." The players have taken this to heart and performed accordingly. While Emery has found success in the Europa League, the strong performances of Watkins and the rest of the team leave open the possibility of qualifying for the Champions League.
The following is the team of the week in the Premier League:
The top-performing players in the Premier League this week make up the team of the week.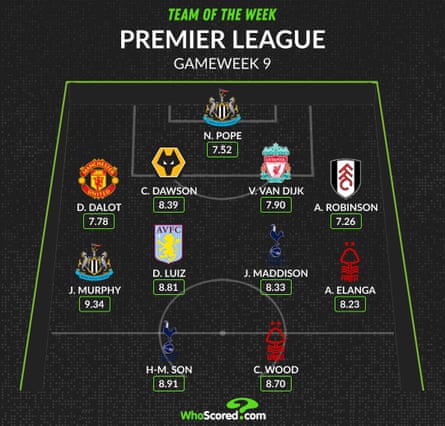 Source: theguardian.com