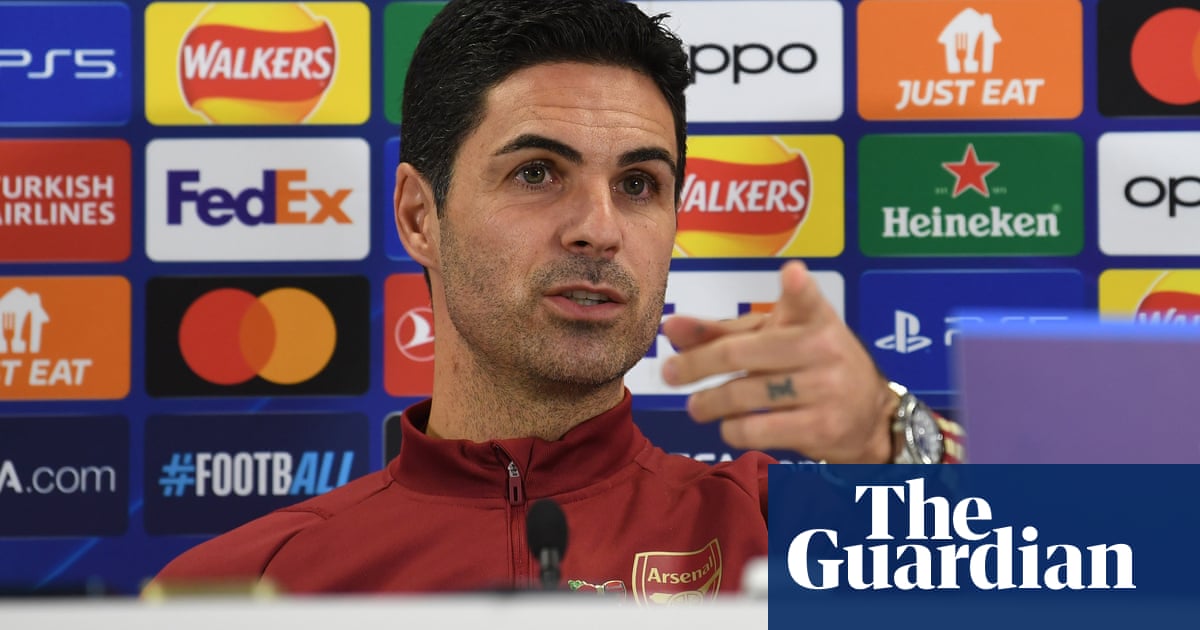 W
What is the next step after doubling down on a position? Is it quadrupling? In poker, this analogy is often used, so would it be equivalent to going all in? Regardless of the terminology, the outcome was demonstrated during Mikel Arteta's press conference on Tuesday, where he was supposed to preview Arsenal's Champions League match against Sevilla at the Emirates Stadium on Wednesday evening. A victory would secure their spot in the knockout phase with two games remaining.
The focus was never intended to be on Sevilla. Recent events have made that clear. Arteta's intense response to Newcastle's winning goal on Saturday night, where he expressed feeling embarrassed and disgusted by the "complete disgrace" of it, was the first of many.
On Sunday, Arsenal stood by Arteta's comments and reiterated their support for him, following another round of unacceptable errors by referees and VAR. The club urged the Professional Game Match Officials Limited group to take immediate action in improving the standard of officiating, rather than just relying on post-analysis, explanations, and apologies.
Arteta did not deviate from his and the club's stance, which was not unexpected. This was particularly evident because there is still a sense of shock among their team regarding Anthony Gordon's goal being allowed. Despite multiple VAR checks for a potential out-of-bounds, a foul, and an offside, Arsenal's request for an overrule was not granted.
It was expected that the Football Association would contact Arteta and Arsenal to ask for their comments on the matter, which could potentially lead to a charge of misconduct.
The focus was not on the main idea, but rather on the finer points and the overall concept of top-down unity. Arsenal is counting on this to prepare them for upcoming obstacles, beginning with their match against Sevilla, following their defeat in the Carabao Cup against West Ham last Wednesday and then Newcastle.
At the media suite in London Colney, Tim Lewis, the influential director, and Edu, the sporting director, were present. They had previously watched Arteta's press conferences, but their current presence held great significance. They stood beside Arteta, supporting and reinforcing his message to the public.
"It is my responsibility to appear on camera and provide a straightforward and truthful evaluation of the game," stated Arteta. "That is exactly what I did, openly reflecting on how the team performed and how the decisions made impacted the game. My duty is to stand up for my players, club, and community in the most effective manner possible. This is something I will consistently do, basing my actions on evidence rather than personal feelings."
Arteta clarified that the club's statement on Sunday was not something he had requested, but rather it was unexpected and unsolicited. He expressed his gratitude for the decision and believed that it demonstrated the unity and readiness of the team to face any challenges that may arise.
Arteta was questioned about how the team's perception of unfairness at Newcastle had brought them closer together. He responded, "Currently, the team and club are very united. It's evident in the way we have expressed our feelings externally. We must continue to do so."
He stated: "We should communicate openly. Ignoring a problem and keeping it to yourself will only allow the problem to fester. Instead, let's discuss any issues and work towards finding a solution. That is our goal, and nothing else."
Arteta's suggestion that Arsenal have acted to improve the game for everybody will draw the eye-rolls. It was not so long ago, when asked about Luis Díaz's incorrectly disallowed goal for Liverpool at Tottenham, that he said "we need to understand mistakes will happen".
In addition, similar to the saying at Arsenal that everyone believes their spouse is the most beautiful, individuals also tend to believe that their team receives the worst judgments. Arsenal has experienced several instances of this recently, which is why Arteta mentioned his previous outburst after the match against Newcastle had been brewing for some time.
Regarding the Gordon goal, it was peculiar that Arteta chose not to clarify his dissatisfaction. Also, regarding the supposed push from Joelinton on Gabriel Magalhães just before Gordon's finish, there seems to be a split in opinions. Could it be that it was a 50-50 call?
Arteta somberly stated that change does not occur immediately. He explained that when he confidently speaks out and provides evidence to support his words in the media, it is because he truly believes in them. He also declared that he and the club will continue to stand up for what they believe is right until it is resolved.
Arteta stated that Gabriel Jesus would be absent from the upcoming game against Sevilla due to an injury, and also mentioned that there is uncertainty surrounding Martin Ødegaard's availability. The manager is eager to shift focus to other matters, but the situation is far from resolved.
Source: theguardian.com