"I
"I am a dedicated player who constantly seeks to have possession of the ball," states Cole Palmer. This was evident on Sunday when, with only 92 minutes remaining and his new team Chelsea trailing 4-3 against his former team Manchester City, he eagerly stepped up to take a penalty kick at Stamford Bridge in hopes of securing an unexpected draw. "As soon as I saw the referee award the penalty, I knew it was my moment," he recalls.
Palmer had a conversation with his fellow team member Raheem Sterling, who was also a former player for City. He expressed his desire to take on a certain task and Sterling responded positively. This situation reminded Palmer of a previous game between Chelsea and Burnley, where Sterling had also been involved in a critical moment that ultimately led to Palmer's success.
The 21-year-old did not have the assigned responsibility that day, but he saw a chance to score his first goal in the Premier League and he is not one to let that opportunity slip by. "I glanced at Raz since he won it and he told me to take it," Palmer explains. "It was a spontaneous decision during the game."
Palmer netted a goal. Similar to the instances when Chelsea received penalty kicks, first at a scoreless tie against Arsenal and then down 1-0 against Tottenham. However, the one against City held even more significance. The accompanying storylines were riveting and culminated in a moment of intense tension, heightened by the separation of players and the lengthy VAR reviews.
Did Palmer feel anxious? He gave a nonchalant shrug, a common trait of those from Manchester. "Not really, to be honest," he answered. "I did think about my previous club while waiting, but after that, I wasn't too bothered."
After scoring, Palmer did a shrug as his celebration. He explains, "I've been with City for 15 years. I can't celebrate in my usual way with a 95th-minute equaliser because it would be disrespectful. So I just shrugged instead. I'm not sure why."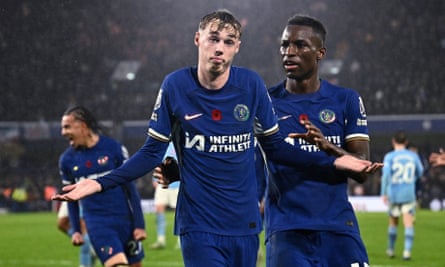 Palmer has lived a whirlwind period, beginning with being a part of England's European Under-21 Championship triumph in the summer. He started the season with goals for City in the Community Shield and the European Super Cup. Then there was the £40m deadline-day move to Chelsea. His Stamford Bridge career has ignited and there would be even more when he checked his phone after Sunday's game. Gareth Southgate had given him a first senior England call-up for the Euro 2024 qualifiers against Malta and North Macedonia.
Palmer refers to it as a "bonus," explaining that he had not considered the possibility of receiving recognition from England when he made the tough choice to depart City for Chelsea. He received the news immediately after the match, causing his phone to constantly ring due to messages from City fans who are his friends, as well as his family. Upon reading the message multiple times, he was pleased to confirm its accuracy. He promptly called his father, who was with his mother at the time, to share the news with them.
It is intriguing to listen to Palmer reflect on his move; amusing as well, especially when he ponders his new life in the southern region. "The biggest frustration? The traffic – that's the main issue for me. Everything else … I am quite content. It is also much warmer than Manchester."
This was a major change for me. I had never left Manchester as a player, not even temporarily, so moving there on my own was a significant step. It was challenging at first when I stayed in a hotel, but now I feel more comfortable and adjusted.
Palmer became increasingly dissatisfied with the amount of playing time he was receiving at City and started to consider the possibility of leaving. However, when the team made it clear that they were focused on bringing in Jérémy Doku, Palmer had to make a quick decision. He had a productive conversation with Mauricio Pochettino and was aware of the Chelsea manager's highly regarded track record for nurturing young players. After some introspection, he ultimately found a sense of clarity and determination.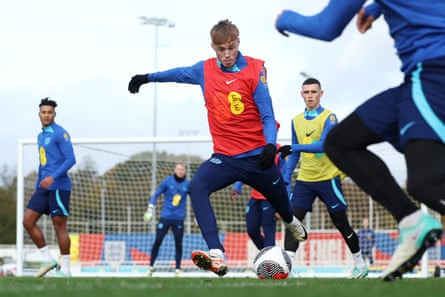 "I contemplated for a few days, constantly pondering my options," Palmer explains. "I was unsure of what to do, as it was a difficult decision. Ultimately, I felt that for the sake of my career, I needed to pursue opportunities for consistent playing time. The competition at City and their plans for new signings made me uncertain about staying. When I considered the Chelsea team, I realized that if I joined them and showcased my abilities, I would have a better chance of getting playing time. Fortunately, it worked out in my favor."
In the final moments of added time on Sunday, Palmer's playful nature was on display as City received a free-kick near the Chelsea area. As their players gathered to strategize, Palmer also joined in, hoping to be seen as a friendly presence instead of an adversary. However, a grinning Erling Haaland quickly dismissed him.
"I was simply joking," Palmer stated. "I didn't hear anything. Erling found it quite amusing, but I don't believe the others shared the same sentiment."
Palmer's confidence and boldness are evident, especially during his England press conference where he gave brief and direct answers. When asked to compare Guardiola and Pochettino, he simply replied with a shrug and "I don't know" before moving on to the next question. As a child, he pretended to be numerous players in his garden, including Rooney, Ronaldo, and Messi.
However, it aligns with a confident young man who has control over any situation. This is his moment.
Source: theguardian.com