It was unexpected for Scotland's qualifying campaign, which was relatively easy, to conclude in a non-traditional manner.
Scotland ended Group A with a bang, as they shared six goals with Norway. They had already secured their spot in the next round with two games remaining and ended with a total of 17 points out of a possible 24.
The highlight of the evening was a celebratory lap for Steve Clarke and his team, who have qualified for consecutive European Championships. The specific details of the match were not significant.
Clarke described the game as unusual, stating that it was a chance for the fans to show gratitude towards the staff and team, while others showed appreciation towards the fans. He mentioned that their team is now in the draw and has exciting prospects for the upcoming summer, but they still have plenty of tasks to complete.
Norway's attitude to this fixture was supposedly illustrated by their willingness to let Erling Haaland sit out. The prolific Manchester City striker took a bang to a foot during last Thursday's friendly win over the Faroe Islands, with Norway staff insisting the injury was not serious. He was spared this evening in Glasgow, presumably to focus on upcoming club matters.
However, Norway had a statement to make. Scotland's surprise win in Oslo in June played a major role in deciding the fate of these teams' qualification. Scotland maintained their composure and advanced from the group with Spain.
The guests began with a clear focus on correcting injustices. However, Scotland's defense was lacking, particularly when it came to stopping a cross from Norway's right side. This was evident in Nathan Patterson's failure to properly challenge Aron Dønnum as he received the ball and passed it back to the Toulouse player. Dønnum was able to redirect the ball past Zander Clark, with some help from Patterson's deflection.
Scotland was energized by the objective. John McGinn's optimism resulted in a frantic foul by Kristoffer Ajer, causing Scott McTominay's free kick to rebound towards Callum McGregor. The Celtic captain's shot was obstructed by Dønnum's raised arm. McGinn then successfully converted the penalty kick, earning his 18th goal for Scotland.
Norway took the lead once more in the opening quarter. Scotland's left side, without Andy Robertson and Kieran Tierney due to injury, was vulnerable once again. This time, Julian Ryerson provided a low cross that Jørgen Strand Larsen flicked in from close range. Clark may regret not stopping the ball from crossing the line. Clarke was stunned by his team's generosity.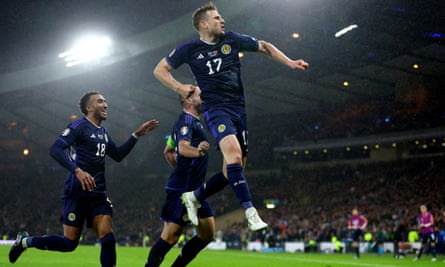 In a match that had an unusual atmosphere of the season coming to an end, Scotland reacted again. Kenny McLean jumped to connect with a corner from McTominay, and his header ended up in Norway's goal thanks to an unlucky deflection by Leo Østigård. Scotland didn't play particularly well in the first half, but they were justified in being satisfied with a tie. A great block by Patterson stopped Dønnum from scoring a third goal for Norway just two minutes before halftime.
When Scotland makes it to the finals, Clarke will anticipate Tierney and Robertson being healthy and performing well. Angus Gunn, who has recently become the preferred goalkeeper, was also absent from this international camp. The team's goalkeeping position will be even stronger if Craig Gordon makes a comeback at Hearts after recovering from a long-term injury.
Clarke's preferred striker, Che Adams, was not present for Scotland's matches against Georgia and Norway. In other words, there were factors that contributed to their shortcomings in these matches.
Without Adams, Clarke gave Jacob Brown a rare opportunity to start. The Luton Town striker had the chance to prove his worth to his manager, but unfortunately missed connecting with the ball in front of the goal just moments before the home team took the lead. However, Brown's mistake was overlooked thanks to the determination of Stuart Armstrong, who never gave up on a seemingly lost cause and managed to win back possession. Armstrong then passed to McGinn and received a return pass before scoring past Egil Selvik at his near post.
Clark made a great save against Sander Berge as Norway tried to score a third goal. Scotland's performance in the second half was better than the first. If they had scored a fourth goal, there would have been a higher chance of Clarke's team being placed in pot two for the finals draw. However, it didn't seem likely that they would score. Pot three is considered to be more favorable, anyway.
Norway prolonged Scotland's streak without a win to five games. Ryerson rushed down the right side and passed Clark, who was left behind, with his cross. Mohamed Elyounoussi, formerly of Celtic, scored a header into the open net.
"The Norway manager, Ståle Solbakken, believed that we were the superior team. The previous match against Scotland will always be remembered as the defining moment of our campaign."
Source: theguardian.com