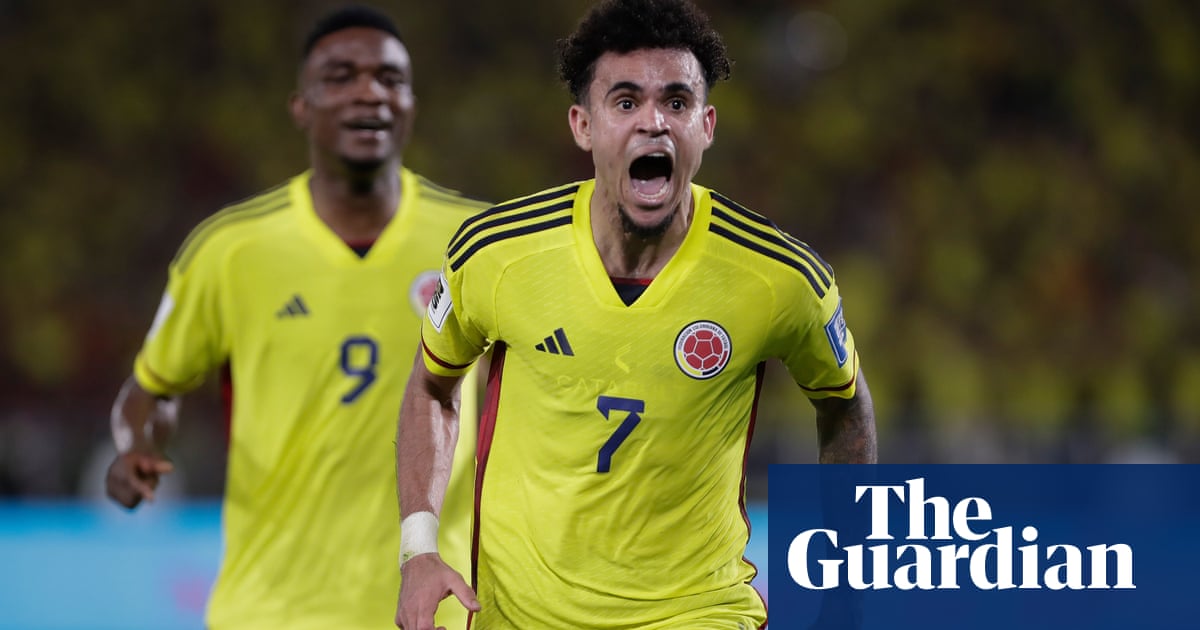 Colombia secured a thrilling 2-1 win over Brazil in their World Cup qualifier match, thanks to two goals by Luis Díaz in the final four minutes of the second half.
The striker represented Colombia on the field shortly after his father, Luis Manuel Díaz Jiménez, was released from captivity by guerrillas in the northern region of the country on October 28.
Díaz had a therapeutic evening as he scored two goals for Colombia against Brazil, who had initially taken the lead with a goal from Gabriel Martinelli.
Brazil had a strong start and controlled the beginning of the game, scoring in the fourth minute with Martinelli's goal, set up by Vinicius Jr.'s precise first touch pass.
The speedy Real Madrid winger had to leave the game in the first half due to a thigh injury. After that, the home team gradually gained control, fueled by the enthusiastic crowd at the packed Metropolitano stadium in Barranquilla.
The inspired Díaz alone created 10 attempts on target for Colombia, but was denied an equaliser by a string of fine saves from his Liverpool teammate Alisson, before defensive mistakes helped the forward net two headers in the 75th and 79th minutes.
Díaz broke down in tears as he dedicated his victory to his father, who was visibly moved as he watched from the stands.
Brazil has suffered back-to-back losses in the World Cup qualifiers and has failed to win in their last three games. As a result, they have fallen to fifth place in the South American standings on Thursday.
On Tuesday, the five-time champions will face a lot of pressure as they play against their long-standing rivals Argentina at the famous Maracana stadium in Rio de Janeiro.
Argentina will be seeking to recover from their recent loss of points in the South America World Cup Qualifiers, where they were defeated 2-0 by Uruguay at home last Thursday. Despite this, they still maintain their position at the top of the standings.
Goals in each half from Ronald Araujo and Darwin Nunez gave Uruguay victory over Lionel Messi's Argentina in a nervy affair at the World Cup champions' Bombonera stadium in Buenos Aires.
The guests dominated the game from beginning to end and their victory elevated them to second place in the rankings with 10 points, just two points behind Argentina.
In the 41st minute, Araujo successfully shot the ball from inside the box and it went past goalkeeper Emiliano Martinez. Nunez then scored another goal in the 87th minute with a neat finish during a counter-attack.
Messi told TyC Sports that the opposing team was formidable and had a strong physical presence, playing with greater intensity. He admitted that his own team struggled greatly to find their footing and play their usual game.
We didn't feel at ease and couldn't gain possession or control of the game. Our possessions were short and we struggled to create opportunities. Our opponents dictated the game and set the pace. They are a strong team that poses a threat on the counter-attack, as evidenced by their goals.
Colombia are third on nine points, one ahead of Venezuela who were held to a goalless draw at home by sixth-placed Ecuador, who are one point behind Brazil, who are fifth on seven points.
Source: theguardian.com