D
Andrew Kevin Walker adapted the graphic novel by Alexis Nolent for David Fincher's captivating and addicting samurai crime drama. The film features Michael Fassbender as the unnamed hitman who shares his thoughts on the challenges of his job, particularly boredom, in the understated and gripping opening scene. He muses on various topics, including the lack of morality in the world and his love for the Smiths' music, while perched in a WeWork office space with his sniper rifle overlooking a luxurious hotel in Paris. He patiently waits for his target, a VIP guest staying in the suite across from him, to make an appearance and meet their demise.
However, despite the murderer's calm and merciless attitude, disciplined behavior, and impressive yoga poses, something unexpectedly goes awry. The wealthy and cruel individuals who hired the killer are now furious and seeking revenge, causing the killer to have to eliminate them. The killer now lives by a new motto: WWJWBD – What Would John Wilkes Booth Do?
The murderer's intense determination to save himself leads him on a journey from Paris to the Dominican Republic, where he owns a luxurious hacienda, and then to New Orleans. In order to meet with the law professor who recruited him, he must also travel to Florida, New York, and Chicago. Along the way, he engages in violent acts and must constantly switch disguises and cover his tracks. Despite this, he is greeted with false names and friendly smiles at airline ticket counters and rental car booths. He has numerous lockups and storage units where he keeps his weapons, cash, and forged passports.
The situation is comically absurd, but the sincere dedication and serious demeanor of Fassbender and Fincher in their portrayal of anonymous professionals make this performance highly enjoyable. There are also unsettling instances where the facade of reality is questioned: is it truly possible to gain access to a keyfob-protected door by simply taking a photo with your phone and purchasing a fob-copier from Amazon? It may seem far-fetched, but perhaps it is possible.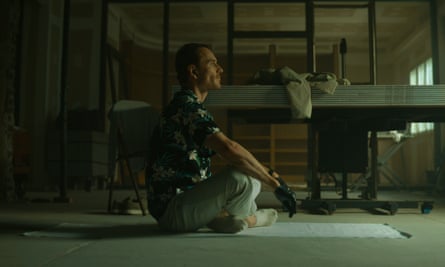 Students who study Frederick Forsyth's novel "The Jackal" have been utilizing the tactic of using fake passports for many years. Even if the details on the passports are not entirely accurate, their abundance adds an intriguing and even alluring element. We witness the killer purchasing specific items at a grocery store, but it is not until a later scene that we discover their intended purpose. This delay in revealing information creates its own suspense and danger in the story. Director David Fincher ramps up the intensity during the action-packed scenes when the killer is unexpectedly attacked, often while he is distracted by reciting his own personal rules. These intense confrontations often result in a fierce physical altercation, including one that takes place in front of a television displaying news anchor Fiona Bruce.
Why is the murderer committing these acts? Has he ever considered taking a break and enjoying his wealth? Perhaps he lacks creativity and has unknowingly been collecting money and weapons for this type of self-destructive kamikaze mission. Or will the disaster offer him an escape from this predicament? This suspenseful story relies on superficial elements and skilled execution, with Fassbender's weary and enigmatic expression perfectly suited for the role.
Source: theguardian.com