A jury has held Robert De Niro's production company responsible for gender discrimination and retaliation, and has ordered them to pay $1.3 million to De Niro's former assistant in Hollywood.
The jury in New York did not hold the 80-year-old actor and director personally responsible after a two-week trial.
Graham Chase Robinson, 41, alleged that while working for De Niro from 2008 to 2019, she experienced workplace mistreatment and sexual misconduct from him.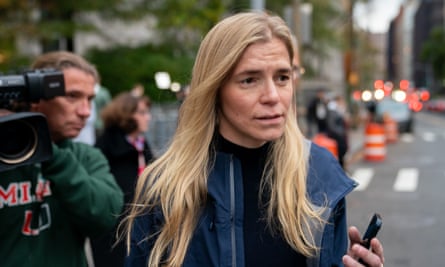 She was pursuing $12 million in compensation for the emotional distress and damage to her reputation. She claimed that being unemployed and unable to overcome the effects of her job had caused her significant harm.
Following several hours of consideration, the jury concluded that Canal Productions, the defendant's production company, was responsible for gender-based discrimination and retaliation. As a result, they granted Robinson $1.264 million in damages for both offenses. Additionally, Robinson was fully cleared and not held accountable for any of the accusations made against her.
On the previous Tuesday, De Niro yelled "Shame on you!" at his ex-executive assistant and vice-president while giving testimony at the trial. He was present for three days of the trial, but was absent for the verdict.
David Sanford, the lawyer representing Chase Robinson, expressed his satisfaction with the jury's decision to rule in Robinson's favor against Canal Productions, owned by Robert De Niro. He stated, "We are pleased that the jury recognized what we did and delivered a verdict in Chase Robinson's favor."
Ms. Robinson not only won her case against Canal, but the jury also completely vindicated her by determining that De Niro's accusations were unfounded.
As Robinson exited the federal court in Manhattan, she chose not to provide any statements. However, Sanford expressed skepticism that his client, who had been employed by De Niro for 11 years until 2019, would maintain any communication with the actor in the future.
Sanford suggested that the jury had granted Robinson $1.3 million, although not the entirety of what she requested, as they likely calculated the amount she had not earned since her termination.
Sanford stated that he believes the jury compensated her for the past four years despite her not being employed.
Robinson stated in court that De Niro and his girlfriend, Tiffany Chen, joined forces to transform a job she once enjoyed into a terrible experience.
During two days of testimony, the actor stated to the jury that he increased Robinson's salary from less than $100,000 per year to $300,000 and promoted her to the position of vice-president of production and finance, per her request. However, her job duties remained mostly unchanged.
After she left, De Niro claimed that Robinson had taken approximately $85,000 worth of airline miles from him. This was seen as a betrayal of trust and a violation of their unspoken agreement to use good judgement and act ethically at all times.
On occasion, De Niro admitted during his testimony that Robinson's allegations in her $12 million lawsuit for gender discrimination and retaliation were true. This includes the possibility that he mentioned his personal trainer earning more than her due to having a family to take care of.
He admitted to requesting that she scratch his back on two separate occasions, playfully brushing off a query about it with the response: "Okay, twice? You caught me!"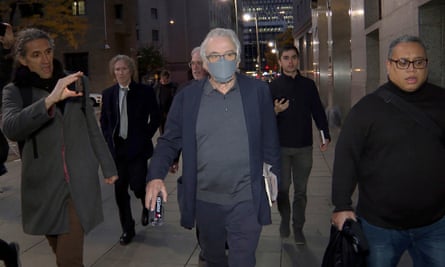 He acknowledged that he had scolded her, but denied using any foul language towards her, stating: "I have never been abusive."
He refuted the claim that he had ever yelled at her, stating that her accusations were baseless and that, at most, he had simply raised his voice in her presence without showing any disrespect. As he gazed at her sitting with her lawyers in the center of the courtroom, he exclaimed: "Chase Robinson, you should be ashamed!"
Robinson stated that she resigned from her job due to an intense emotional and mental breakdown that left her feeling overwhelmed and at her lowest point.
She mentioned that she experiences anxiety and depression after quitting her job and has not been employed for four years, despite applying for 638 jobs.
She stated, "I lack a social life. I am deeply humiliated and embarrassed and constantly feel judged. I feel damaged and have lost my life, career, and financial independence. I have lost everything."
On Thursday, Robinson expressed her joy by smiling and hugging all of her lawyers once the jury had left the room. She continued to smile as the verdict was announced.
The lawyer representing Robinson, David Sanford, expressed his satisfaction to the reporters, stating that he was pleased with the jury's decision to rule in Robinson's favor against Robert De Niro's company, Canal Productions.
Ms. Robinson not only won her case against Canal, but the jury also completely vindicated her by determining that De Niro's claims against her were baseless.
De Niro's lawyer, Richard Schoenstein, stated that their legal team will attempt to decrease the amount of the judgement through post-trial motions.
The report was contributed by the Associated Press.
Source: theguardian.com