I
Halloween is an interesting holiday, as it is meant to be a time for acknowledging death and spookiness, but has evolved into a celebration of cozy autumn activities. (Having grown up in a place where Halloween occurred during the colorful bloom of spring, it seemed even more nonsensical.)
Halloween has often been portrayed in movies as a spooky and chilling night, particularly in John Carpenter's Halloween. However, it has also been used as a backdrop for lighthearted genres such as comedy, romance, and joy, often depicted with warm autumn colors.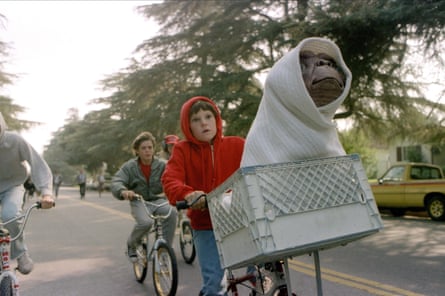 Vincente Minnelli's Meet Me in St Louis, a four-seasons family portrait, captures the essence of Halloween like no other movie. While it is often associated with Christmas, the extended sequence of children dressing up and causing mischief around a Halloween bonfire is both beautiful and eerie. The film perfectly captures the wonder and excitement that children feel during this peculiar holiday tradition. Another film that captures the magic of Halloween is Steven Spielberg's ET the Extra-Terrestrial. In this movie, the ordinary customs of dressing up and trick-or-treating become the launching pad for an otherworldly adventure as a child and an alien, both in makeshift costumes, embark on a truly uncanny journey.
In family movies, Halloween often evokes a sense of wonder and excitement. Some examples of this are the elaborate Halloween feast at Hogwarts in the American-influenced Harry Potter and the Philosopher's Stone, the focus on Halloween in fairytales and lifting of witchy curses in the beloved Hocus Pocus, and Tim Curry's memorable line "Anything can happen on Halloween" in the charmingly low-budget 80s TV adaptation of The Worst Witch (Internet Archive). However, there is one exception to this trend – the heartwarming half-hour Peanuts cartoon It's the Great Pumpkin, Charlie Brown (Apple TV+). This film explores the comedy and sadness of childhood dreams that never come true.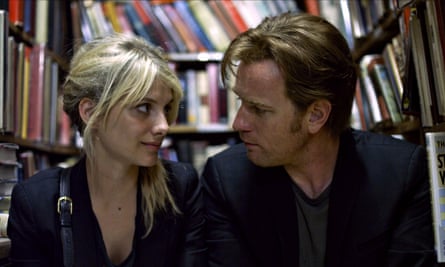 When adults watch Halloween movies, they often do so with a sense of irony. In the movie Beginners, which tells a personal story of a father and son, a Halloween party attended by hipsters leads to a chance encounter between the main character, who is grieving, and a stranger suffering from laryngitis. The man's costume as Sigmund Freud serves as a warning of his emotional baggage. In the movie Mean Girls, the politics of Halloween costumes are cleverly explored through the character of Lindsay Lohan's misfit new girl, who is dressed as a Gothic ghost bride. The famous quote "Halloween is the one night a year when a girl can dress like a total slut and no other girls can say anything about it" is also featured in the film.
However, not limited to the horror genre, Halloween can also evoke feelings of fear and distress. In the Mubi film Mysterious Skin, directed by Gregg Araki, the holiday plays a significant role in the story of two teenage boys who are affected by their past experiences of sexual abuse. Similarly, in Boys in the Trees by Australian director Nicholas Verso, Halloween serves as a backdrop for two former childhood friends to confront their complicated dynamic amidst themes of toxic masculinity and bullying.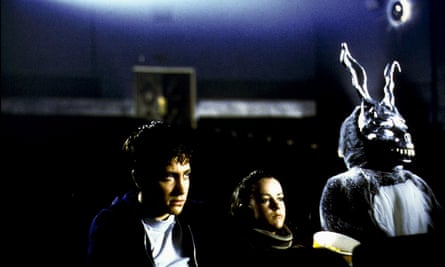 Throughout the month of October, the film Donnie Darko, directed by Richard Kelly, builds towards Halloween as a pivotal day filled with tragedy and unsettling visions, all centered around a worn-out rabbit costume. In We Need to Talk About Kevin, Lynne Ramsay brilliantly captures the festive atmosphere of trick-or-treating, accompanied by Buddy Holly's upbeat song "Everyday", as a twisted parody of the violent horrors experienced by Tilda Swinton's grieving mother character. However, it is the unexpected and humorous classic screwball comedy Arsenic and Old Lace (available on Internet Archive) that best showcases the holiday's juxtaposition of lightheartedness and darkness, as a newlywed's honeymoon plans are derailed by a cheerful pair of murderers within the family on Halloween night.
All titles can be rented on various platforms, unless otherwise indicated.
This week's new releases available for streaming.
Passages
(Mubi)
Ira Sachs's mature and passionate love triangle is one of the top movies of the year, driven by Franz Rogowski's unpredictable portrayal of a bisexual filmmaker torn between his longtime partner Ben Whishaw and his new lover Adèle Exarchopoulos, who becomes pregnant unexpectedly. The film tackles potentially melodramatic themes with a focus on contemporary relationship dynamics and the intense physical connection between individuals.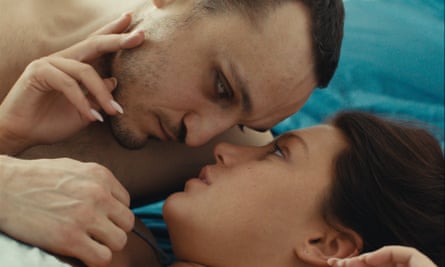 Saw X
(Lionsgate)
Arriving on streaming services on Monday, just in time for Halloween, the 10th installment of this surprisingly long-lasting horror series is one of its most lively and imaginative – especially when it comes to orchestrating intricately gruesome deaths. Immersed in the history of the franchise, it's primarily for dedicated fans, but who else would still be watching at this stage?
Talk to Me
(Altitude)
The year's sleeper horror hit is a nimble, nervily acted little shocker from Australia that milks far more from its generic-sounding premise – teens stumble upon an occult object that enables them to see the dead – than you might expect. Its story logic eventually goes haywire, but not at the expense of its tension.

Reworded: The movie "All That Heaven Allowed" starring Rock Hudson.
(Universal)
Stephen Kijak's documentary portrait of Hollywood's most famously closeted screen icon offers a compelling, compassionate look at Hudson's stymied personal life, though it goes less deep on his screen presence and underrated acting ability.
Source: theguardian.com