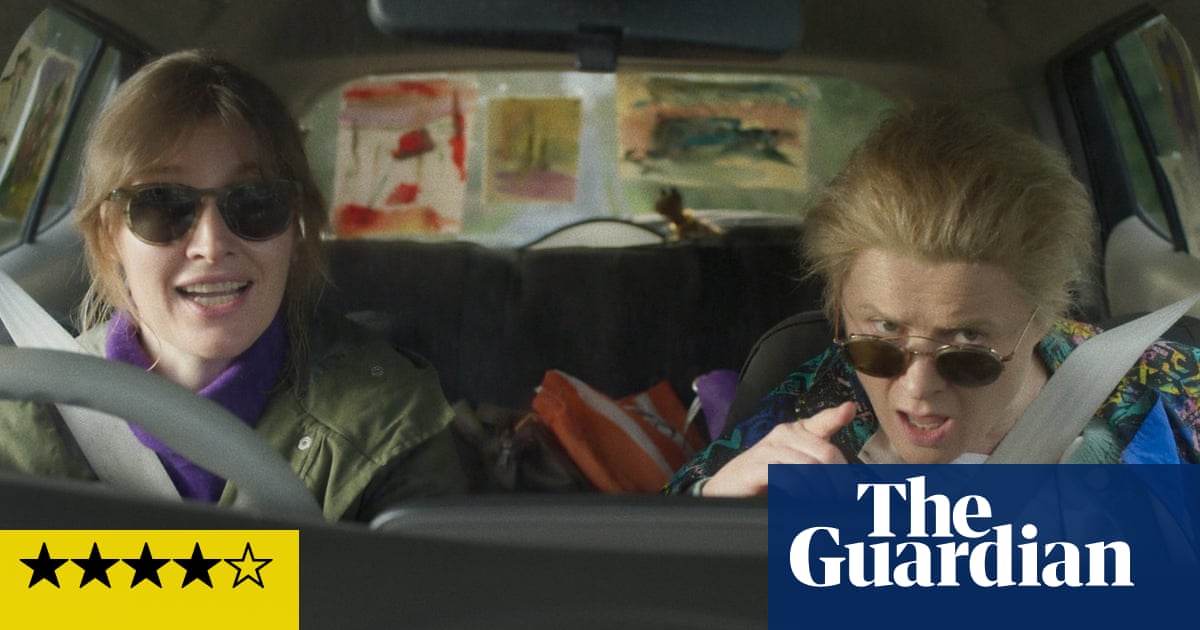 W
With genuine empathy and kindness, director Carol Morley has crafted a charming, magnanimous, and creative tribute to the often overlooked English artist Audrey Amiss, portrayed with sharp-eyed enthusiasm by Monica Dolan. While the film may have a sentimental core, this is due in part to Morley's decision not to sensationalize the transformative suffering of mental illness.
Sunderland-born Amiss studied painting at the Royal Academy during the 1950s. After experiencing a mental breakdown, she spent the rest of her life in and out of institutions. Eventually, she took on a secretarial job while continuing to create art that remained unsold and unseen. This included impressionistic sketches of her daily life and an autofictional collage-journal made up of found objects such as packaging, flyers, and leaflets. She also added stream-of-consciousness diary entries, creating a continuously updated real-time manuscript that captured her hidden life. Amiss's work is now housed in the Wellcome Collection archive in London, which was first examined by Morley. It is likely that biographers will study her work in the future. Morley discovered Amiss's passport, which listed her occupation as "Typist Artist Pirate King."
This situation is similar to Morley's 2011 film Dreams of a Life, where she attempted to piece together the life of a enigmatic woman who had no recorded accounts before her untimely passing. In this case, Morley has access to a vast collection of archived materials, but instead opts to create a fictional story based on a few significant clues, resembling a classic road trip movie.
Dolan and Amiss are the main characters in a frenzied London apartment. Amiss is constantly on edge and unhappy, convinced that people are plotting against her and consumed by thoughts of the past. Kelly Macdonald portrays Sandra, an imaginary social worker who visits Amiss every two weeks and endures her constant verbal attacks. Amiss is difficult and ungrateful, and she demands that Sandra drive her to a nearby art gallery where she believes she can finally display her work. Despite her reservations, Sandra reluctantly agrees. However, Amiss fails to provide an address and simply tells Sandra to follow her directions. As they drive, Amiss reveals that the gallery is actually in Sunderland, her hometown, where she plans to confront her childhood and her sister Dorothy (played by Gina McKee). Sandra has no choice but to go along with the plan, and to make matters worse, Amiss gives her the nickname "Sandra Panza."
Audrey, in her hallucinations, misinterprets everything she sees but diligently compiles it all in her overflowing scrapbook. Without Dolan's energetic portrayal and Macdonald's intelligent sensitivity, this may have been less effective. The casting complements the writing, and the darkly humorous and tragicomic nature of their situation is often amusing. Amiss, played by Dolan, is almost unbearable with her incessant rambling: she never stops talking, never stops accusing and defending herself, even when she embarrasses herself in public. When she insists on driving and inevitably crashes into a tree, she praises the tree's artistic qualities while berating Sandra for not appreciating it.
Similar to other films about journeys, this one is moving towards a moment of realization and emotional release that Amiss may not have experienced during her lifetime. However, the cinematography by Agnès Godard is exceptional and the film conveys a strong sense of empathy. We should now have an authentic display of Amiss's artwork.
Source: theguardian.com