G
Retta Scacchi, a 63-year-old actress who has won an Emmy award, was born in Milan, Italy. She grew up in England and spent two years of her teenage years in Australia, where she started her career in theatre. Some of her notable films include White Mischief, The Player, and Emma. She can currently be seen on Netflix in the TV series Bodies and the recent film Run Rabbit Run (alongside Sarah Snook from Succession). Scacchi will soon be taking on the role of Mrs Hardcastle in an updated 1930s version of Goldsmith's She Stoops to Conquer at the Orange Tree Theatre in Richmond.
What attracted you to Mrs Hardcastle from "She Stoops to Conquer," a well-known character in theater known for being flamboyant, mercenary, humorous, and vulnerable?
I have fond memories of performing in this play during my first year of drama school at the age of 18. Despite not appearing to fit the part, I thoroughly enjoyed playing the comical roles. Mrs Hardcastle was always a character I aspired to portray, so it's amazing that I now have the opportunity to do so, as I am the appropriate age and build for the role. I am reaching a point in my career where I am excited to take on diverse characters that challenge people's perceptions of me.
What is your experience like being a part of a major Netflix production, playing the enigmatic voice of The Lady in Bodies?
I am pleased that others enjoy it and I have great respect for Stephen Graham and the other talented actors involved. However, my personal opinions do not hold much weight as I do not watch my own work. Television lacks the warmth, collaboration, and creativity of theatre. Only the camera crew and makeup artists, who are present every day, truly feel like they are part of a larger project. As I only worked on the show for a few days out of five months, I found it difficult to remember my character's name, let alone anyone else's.
Is theatre your preferred form of expression?
It's like my sacred space. As you get older, life itself continues to throw more challenges and dramas your way, and doing theatre, with its pace, its timings of rehearsals and its rules, makes me feel a bit more in control.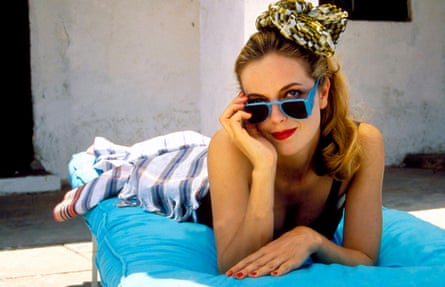 What are your thoughts on your fame during the 1980s?
I understood at the time that I was constantly being asked to fulfill a male fantasy. It took a lot of effort to challenge the idea of femininity while being objectified by the male perspective. I have noticed significant changes in this dynamic, with more female directors receiving recognition. However, the portrayal of older women often remains peculiar.
In what way?
I have encountered what I refer to as the "grey wig in the wardrobe problem." Over the past five years, I have portrayed five different characters that required me to wear varying quality grey wigs. As a result, I had a custom wig made that fits me perfectly and remains in my wardrobe at home. However, not all women look good in grey wigs. Just take a look at Maggie Smith in real life – she is fashionable and youthful. Where are the representations of modern, older women, whether glamorous or not? Where are the women who lived through women's liberation, flower power, and punk culture? Just because we are portraying characters over 60 years old does not mean we should be confined to outdated stereotypes.
Why did you only receive a British passport in recent years, even though you have a British mother?
My maternal family has English roots, but that did not matter for Margaret Thatcher. My older siblings were able to obtain British passports, but Thatcher's legislation changed that for children with foreign fathers. I am still upset by this. When Brexit was announced, I realized I needed to take action before I was forced to leave. While I have love for Australia and Italy, I have always chosen to live near London. Despite its drawbacks of being annoying, rainy, and cold, it is also a place of great interest to me. It meets my standards.
If pursuing acting did not succeed, what other career paths did you consider?
I aspired to become a tour guide in thrilling locations – for instance, venturing to the Valley of the Kings and learning about it, becoming a part of it, and sharing my passion. It was essentially another form of performing, immersing myself in the experience and journeying.
Who are the actors that currently inspire you?
Matthew Macfadyen's performance in Succession is impressive, portraying a character who appears to be morally upright yet is deeply corrupt. The chemistry between Tom and his colleague Greg, played by Nicholas Braun, is outstanding. Jemma Redgrave's recent performance in Octopolis at Hampstead Theatre was also remarkable, as she has reached a point in her career where her talent and experience have truly shone. I highly recommend Monica Dolan's role in Carol Morley's new film Typist Artist Pirate King, as her performance has stayed with me.
Earlier this year, you and your daughter Leila George starred together in the Australian film "He Ain't Heavy," with you playing her mother. Do you offer her any guidance or advice?
There is no way. You quickly learn to refrain from offering advice! In our on-screen relationship, there was tension and finger-pointing, as well as loyalty and collaboration, all of which are common in a real-life mother-daughter dynamic. It was quite unusual, but ultimately, it turned out to be a positive and heartwarming experience.
What is it like to live in Sussex again, like you did when you were a child?
I continue to enjoy running on the Downs. I also have a traditional garden in Sussex, and I come from a family with a knack for gardening in Gloucestershire on my mother's side, which I believe has been inherited by me. I am intrigued by the wild plants, the meadow spaces, and how things evolve each year. I cultivate plenty of basil, tomatoes, zucchini, and borlotti beans. These Tuscan vegetables are essential for making authentic Italian soup! If my beans do not grow well, I refuse to purchase canned ones. Instead, I will travel to Italy in August or September and bring back a suitcase full of them.
The play She Stoops to Conquer will be showing at the Orange Tree Theatre in Richmond, Surrey from November 18th to January 13th, 2024.
Source: theguardian.com