On the evening of July 13, when Carlee Russell went missing, the situation was taken seriously, which is uncommon in cases involving missing Black women and girls.
Images of the 26-year-old were widely shared on social media, prompting police in her hometown of Hoover, Alabama to initiate a statewide search. However, as details surrounding Russell's disappearance emerged, the commonly accepted story quickly fell apart.
The initial shocking disclosure was that Russell had made a 911 call right before disappearing, claiming to have witnessed a young child walking alone on the side of the highway – a story reminiscent of a famous Dave Chappelle comedy bit. Following this call, Russell contacted her brother's girlfriend and reportedly expressed worry for someone before suddenly screaming and abruptly ending the call.
48 hours after, Russell appeared again with a revised tale: she informed authorities that she was abducted by a man with orange hair who appeared from the woods and forced her into a semi-trailer with another woman and an infant. Miraculously, she managed to escape but was later caught again and coerced into taking off her clothes for pictures. Eventually, she was dumped from another vehicle and managed to break free, finding her way to a nearby forest and eventually making it to her parents' home.
Russell's cinematic flair enraptured the millions following her case in real time. Investigators sprinkled in their own details: that Russell had researched the film Taken and instructions on Amber alerts, that she had left her Mercedes idling on the roadside with her purse and a wig still inside, that she stopped at Target to stock up on Cheez-Its before checking into a Red Roof Inn.
Alvin Gray, a 37-year-old indie film-maker based in Baltimore, found himself on a surprisingly emotional journey. "I went to bed that night with a heavy heart," he remembers of those first fraught hours after Russell fell off the radar. "I have a habit of putting myself in the shoes of people who are in danger because I want to feel what they're feeling for whatever weird storytelling reason."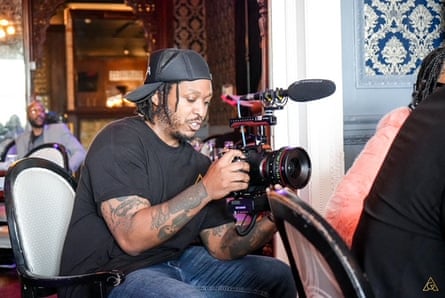 Shortly after, the initial worry for Russell transformed into frustration as she confessed that her kidnapping had actually been fabricated. Right-wing skeptics joyfully discredited her, likening her to Jussie Smollett and criticizing her for squandering both law enforcement's time and the country's unity.
A judge from the city has suggested that she serve a year in jail and pay $18,000 in fines and compensation this month. While Russell has the option to contest this sentence at the circuit court, she may face difficulty finding understanding from a jury of her peers. In particular, Black individuals may still hold feelings of hurt and view the entire situation as a self-centered attempt for attention that will only worsen the serious treatment of future cases involving missing Black persons.
Gray was curious about what motivated her. He initially envisioned the story as a thrilling and frightening movie. The rollercoaster of emotions, from anxiety to relief to suspicion, would make for a great parody.
He did the same thing. In the previous month, he made The Nurse That Saw the Baby on the Highway available for rent on Prime Video. This is the type of attention-grabbing and unconventional production that used to be sold on subway platforms and from car trunks. Gray describes the lengthy title by saying, "I was thinking about movies like Don't Be a Menace to South Central While Drinking Your Juice in the Hood." This fits perfectly into the strong tradition of Black creators using horror and comedy to explore real-life traumas. However, Nurse feels more like a live-action version of old Taiwanese news animations rather than the fictional story of Get Out, adding even more exaggeration to an already unbelievable tale.
The movie doesn't avoid the easy jokes during its 49-minute duration, starting with Marlee, the Russell character, snacking on a box of Cheez-Its while watching Taken. (Marlee's snacking becomes an amusing recurring joke.) However, Gray skillfully uses these and other colorful details in Russell's story to portray a character experiencing a mental breakdown, taking the film beyond parody and into the realm of Hitchcock – whom he even references. Gray demonstrates his skill while satirizing the romantic relationship between Russell and her ex-partner Thomar Simmons, whom the public sees as the true target of Russell's stunt. As Marlee acts out of a seemingly desperate desire for love, she listens to relationship advice from Steve Harvey, the host of Family Feud, on the car radio.
Gray was mindful of Russell's struggle and purposefully avoided creating a film that added more stress. He clarifies, "The intention was not to mock anyone, but to simply tell the story as it was." Additionally, since the initial story had caused so much tension in a short period of time, Gray believed that those who had gone through the national stress test were now ready to relax.
Eventually, Gray was made aware of the controversy surrounding Russell, a nursing student posing as a professional in the field, thanks to his wife Reena Ranae, who works as a travel nurse. This inspired Gray to take on the task of making a film about Russell. Ranae also decided to join the project, despite having no prior acting experience, and the rest of the cast was recruited through social media.
After being an extra on the TV show The Wire, Gray was inspired to become a director. He decided to involve his family in the film project, with his wife Ranae playing the role of Mike, based on the Simmons character. The opening sex scene may have been uncomfortable for his parents and in-laws. Gray filmed scenes at their home and Ranae's medical spa, spending a total of $500 on the production, including a one-night stay at a Red Roof Inn. They shot the film over four days, with their three young children, including their one-month-old son who appears briefly in the film. Despite the challenges, Gray wanted to finish the project quickly while it was still popular.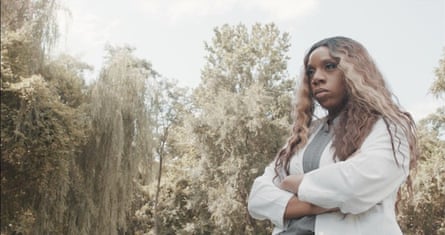 The film naturally gained traction, starting with a few random Facebook posts and eventually making its way to popular Black pop culture outlets such as the Shade Room and Hollywood Unlocked. While serious movie critics may have given Nurse a mediocre two-star rating, casual viewers who were just looking for some weekend entertainment were not disappointed. The film was a hit on TikTok, where clips and reviews were met with crying-laughing emojis. One reviewer remarked, "There were strippers, babies, and the police. But I still loved it. It's refreshing when we can just have fun without taking things too seriously."
Currently, he is occupied with creating a second installment, titled The Nurse That Saw the Baby on the Highway and Returns. This sequel serves as a meta-response, depicting Marlee's journey dealing with the aftermath of the event. Gray states, "I plan to film the movie again, but this time with the Marlee character discovering that a movie was made about her." He is prepared to defend his film against critics who may view it as distasteful. Gray believes that we are all one decision away from ruining everything, and this universal concept is reflected in his story.
Source: theguardian.com